Getting to Know Officer Bertone
A look inside of the role of being a School Resource Officer
Much like the many other new faces here at Sutton High School this year, the new School Resource Officer Nick Bertone has settled into the school culture with ease. Officer Bertone was appointed to the position in September of 2021 and has embraced every opportunity given to him to meet with and get to know students and faculty at SHS. 
His career in law enforcement began after attending and graduating from Douglas High School in 2008 and later working as a teller and manager at a banking branch. 
"I went back to school for finance and then got robbed at one of our offices and decided that I wanted to be a cop," Officer Bertone said when asked what sparked his drive to pursue a career in law enforcement, "I stopped taking financial classes and became a police officer and went to the State Police Academy". He then joined the Sutton Police Department in February of 2021 and months later in September was given the role as the School Resource Officer of Sutton Public Schools after undergoing training through The National Association of School Resource Officers (NASRO).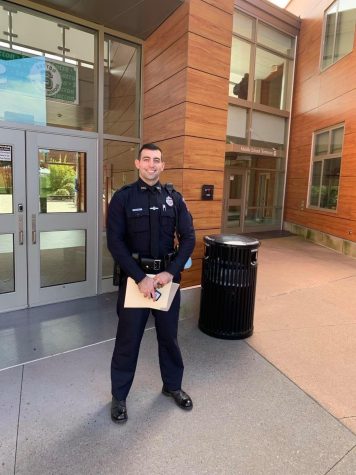 "The training is a 40 hour class on how to deal with juveniles, juvenile law, the best practices, and how to keep our schools and our communities safe", Officer Bertone shared. 
Being a School Resource Officer is a unique sector of law enforcement and is certainly a rewarding one. However, there is far more to the job than just the badge. 
"We [SROs] do so much. We are an administrator, a teacher, a police officer, an EMT or a paramedic, a counselor- it's really difficult to tell what I do on a daily basis because every day is different. I'm here to help with every facet of everyday life for a student or a staff member at the school. That could be rendering aid if someone gets hurt, talking someone through a breakup or bad decision they made, or obviously the elephant in the room- to keep everyone safe in the current climate," Officer Bertone noted. 
To Officer Bertone, working with students is what makes his job so special. "I think that there's a lot of stuff going on with kids, especially nowadays with social media and different pressures. Kids have a lot going on outside of school and in school, so being able to try and help kids through that and being a positive role model and trying to find at-risk kids to help them move out of that kind of life is what's the most rewarding." 
As the School Resource Officer throughout the whole school district, much of a typical day for Officer Bertone is split between the Middle School and High School as well as the Elementary School and Early Learning Center. To no surprise, Sutton High School has welcomed him with open arms and created an environment where he is able to get the job done. 
 "The staff, the people, the kids– that's what makes it [SHS] a great place to be. Everyone is warm and inviting and very tolerant."
In his life outside of school, Officer Bertone lives in Douglas with his wife of 3 years, Jess, their 2 year old daughter (Charlotte), 5 month old son (Logan) and their dog.
Having a School Resource Officer like Officer Bertone in the building allows students and staff to feel safe in our school community. Students are encouraged to approach Officer Bertone with any problems, questions, or concerns they may have. He can be reached by email at [email protected] and in room 123.