Yoga and Mindfulness takes over Sutton High
A class that helps stressed out students
We were lucky enough to sit down with Mrs. Hernandez and talk about the new popular elective, Yoga and Mindfulness. In its second year at Sutton, it has been very successful and popular at Sutton High school. This year, the class had about 60 kids sign up and some students are on their second time in this class. "I have a returning student from last year, so I think that if you asked the kids in class they thought the class was pretty beneficial for them." Mrs. Hernandez believes that the way the class is run and the multiple benefits it has keeps the students wanting to come back.  
Mrs. Hernandez started practicing yoga and meditation two years ago and started to see the upsides to yoga. She saw the multiple benefits it had for her and felt it may be beneficial to her high school students, "I wanted to share that with my students because I think they could use a lot of the strategies and incorporate them in their personal lives or their own stress." 
One of the biggest points she brought up was that the class does not have a set routine or structure. It is organically run by the students based on their needs. "Whatever the student needs, that is what is going to happen." Expanding on how the class is structured differently every day, she says, "We start the class with a fifteen-minute meditation; whether it is a meditation for calmness or a meditation for focus, I choose a theme. Sometimes the meditations go up to twenty minutes… then we go into a three to five-minute break where they can get water or change into comfy clothes. From there we start our yoga sequence… at the end we do a nice circle and close with a check-in word."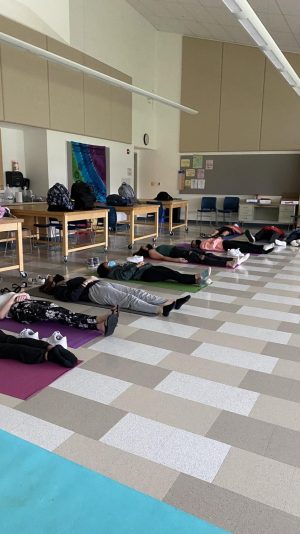 Mrs. Hernandez enjoys teaching Spanish as well as Yoga and Mindfulness. Yoga is her last period class and she enjoys ending her day with the class because it can be very relaxing. "I enjoy both [yoga and Spanish], but I believe yoga is a nice way to end my day because I can incorporate my techniques that are more relaxing than Spanish class."
Yoga and Mindfulness seem to be taking over Sutton High. In fact, so many people wanted to get into it that not everyone could. "We actually had fifty-eight students sign up, so I think it is getting around that it is one of the best electives. The kids enjoy the downtime, they enjoy the meditation, and they enjoy going through the yoga." 
Another point Mrs. Hernandez emphasizes is that you do not need any experience in yoga prior to the class. "You do not need to know yoga to practice, you do not need to know yoga to do this class, so people feel comfortable coming to the class." This is good news as both Jake and I have no prior experience with yoga and are both lucky enough to be taking it in the second half of the year. 
For more information, please contact Mrs. Hernandez or the guidance office.