Poll: Mask Mandate Reversal
Despite uncertainty, the vast majority of students are ready to move on
On February 28th, 2022, the school-wide indoor mask mandate was removed for the first time in two years. According to the letter sent out by Mr. Friend "Mask wearing will be optional for students and staff; however, it is strongly recommended that those individuals who are unvaccinated continue to wear a mask". This announcement was brought about by the decision to lift the state school mask mandate by the Massachusetts Department of Elementary and Secondary Education.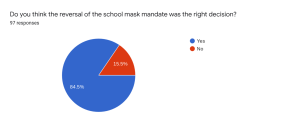 The letter put a strong focus on personal decision making, and stressed that each student is responsible for their own risk analysis. While it is clear the majority of students have decided to ditch the mask, Sutton High School students have a wide range of ideas about the new decision. 
A recent poll taken of Sutton High school students revealed that about 85 percent of students support the removal of the mask mandate, and 15 percent of students do not. This seems to correspond with the anecdotal evidence many students have noticed, with hallways and classrooms appearing mostly mask free. 
Interestingly enough, about 33% of respondents to the poll also said that their opinion on pandemic restrictions had shifted in the last month. A large majority of these students also answered "Yes" to the first question, presumably meaning these students were once in favor of mask wearing. This shift could be attributed to dropping case numbers, the rise of less-severe Omicron, changing CDC guidance, or the lifting of restrictions elsewhere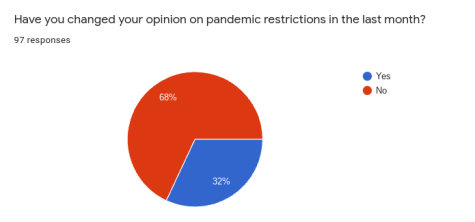 .
The largest group by far included students who answered "Yes" to the first question and "No" to the second question. This means that the majority of students have been in favor of removal of school pandemic restrictions for more than a month. Momentum away from masking and restrictions had been growing long before the reversal was announced. In the months leading up to February 28th, Sutton students have noticed a considerable portion of students wearing their masks under their noses or on their chins. The belief that the change in mask policy was a long time coming is commonplace among students. 
"I really enjoy that they have ended the mask mandate because I feel like it's long overdue and we are finally able to see people's faces again, which is nice" says sophomore Charles Marchand. "I feel like COVID hasn't been that much of a threat for a while now, so I enjoy it."
However, even some of the students not wearing masks have felt uncertain about the sudden change. After two years of restrictions, even kids who are ready to move on feel accustomed to masking. It may take several weeks for students to re-orient themselves to the new situation, and for now these students are in an odd transition.
"It's a little bit scary" said an anonymous freshman. "Seeing people without masks, half of them I haven't seen in a year, including my teachers, who I didn't know what they looked like.
Freshman Luis Aguirre felt similarly strange about the changes: "I feel weird about it, because whenever I walk past a teacher, I always feel like I have to…(gestures putting a mask over his nose).  I go to reach for my mask to pull it up, but then I realize there's no mask [requirement]. That's kind of a weird feeling." He also voices relief at the mandate's reversal: "Without the mask I feel like I can breathe more (inhales and exhales quickly).  You know, like fresh air."
Although they are in the minority, there is clearly a portion of students who have opted to continue masking. Many students are still unsure of the change, and are used to wearing masks anyway. However, another substantial chunk of students are just sticking their toe in the water, continuing to mask for a few more days or weeks to get a better understanding of the situation.
 "I wore a mask for the first three days, but then I took my COVID test last night, because the school has those free COVID tests, and mine was negative, so I'm fine." says Sutton student Myra Page. 
As the days begin to add up since February 28th, students can begin to expect that more people will eventually unmask, as concerned students become more comfortable with the situation we are currently in. As people become more accustomed to a mask-less world, the feeling of normalcy is slowly returning.
Senior Ellie Garamy was at first concerned about unmasking, but now seems to be open to the idea: "It's the first week after break, I feel like it was a little risky doing that for now. I probably won't [wear a mask] later on. We'll see"
The removal of the mask mandate is seen as a major step away from the pandemic era for Sutton, and marks an important shift in decision making from the school administration and state government to the students. Sutton students have a diverse range of perspectives on the issue, but it is clear that now, and in the future,  mask wearing is now the exception and not the rule.