A Pumpkin a Day Keeps The Goblins Away
Have we gone on a Pumpkin Spice overload?
As the leaves start changing colors, the weather starts to cool, and we creep closer and closer to Halloween everything seems to turn into pumpkin. From our morning breakfast and coffee to Cinderella's carriage and newborns for their first Halloween.  People are banging down the doors at their local Starbucks begging for the behind the counter, employee only, pumpkin syrup in their coffee.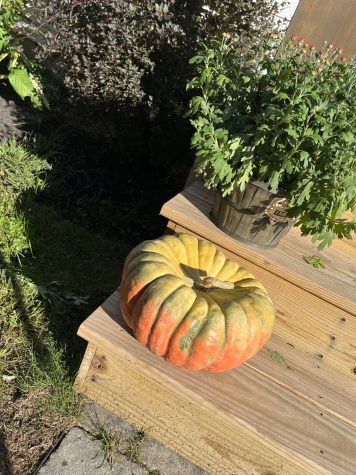 Fall and pumpkin spice have started to go hand and hand. They have slowly become synonyms of each other. Pumpkins are everywhere in the fall. When they started as basic pumpkins on our front steps to carving them into jack-o-lanterns for Halloween night. Somewhere along the line they have waltzed their way past candles and air fresheners into such things like our coffee and meals.
I love sipping on a nice, hot, pumpkin spice latte, don't get me wrong, but have we taken this nostalgic flavor too far? I went around to some local stores and shops to do a pumpkin spice shopping spree.
If you find yourself at your local Whole foods you can get some pumpkin spice pancakes, with pumpkin spice maple syrup to go on top. While you take home your delicious pumpkin breakfast to be you can sip on some hot pumpkin spice tea or some pumpkin spice cold brew with pumpkin spice creamer. That's just breakfast alone.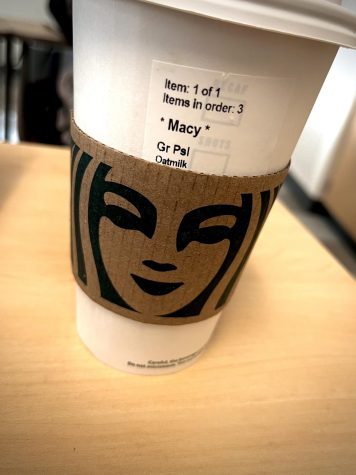 At every coffee drinkers favorite, Starbucks, you can get, a nice Pumpkin Spice latte topped with whipped cream and pumpkin pie seasoning. If you are not a coffee drinker do not worry we have the treat for you, you can enjoy a nice ice cold Pumpkin Spice frappuccino. Don't forget the bakery too. Try a delicious Pumpkin Spice scone and a nice, warm, Pumpkin Cream Cheese muffin.
So what do you think SHS? Here's what a small sample of our school thinks.
I interviewed Sutton Seniors Taylor Bohanan, Carina Campbell, and Cali Kolofsky. They had some very opinionated and passionate answers when it comes to pumpkin spice.
Taylor says, "I like it however, I think you can only drink it seasonally" Cali agrees and adds "I like it when it has its few months in the fall, then I'm all set with it." Carina states, "It is the best seasonal drink ever! All the peppermint stuff is not as good!"
All three of them agree that there is not too much pumpkin spice Taylor even said "There isn't even enough, I mean a good Pumpkin Spice muffin, Pumpkin Spice candle, a donut." Cali adds "I love a good Pumpkin Spice latte or like a pumpkin swirl with oat milk because cold foam hurts my stomach." Carina on the other hand disagrees, "Weak!" Carina said jokingly about Cali's non-dairy approach, "an iced chia latte with pumpkin cold foam is the best drink! I want everyone to know that!"
In a shorter, less heated interview their friends, seniors Natalie Smith and Caroline Howe, seem to disagree.
Caroline stated, "I only like pumpkin spice in a candle." Natalie Smith agrees and added, "Pumpkin spice is definitely overdone, it's really not that good. Though I did try Abby [Smith]'s pumpkin frappuccino and that was pretty good."
I talked to Mr. Anderson and he had a new perspective to the big question.
"I do like pumpkin spice, I don't go out of my way to get it. I drink ice coffee so I don't drink Pumpkin Spice coffee. I like pumpkin muffins from Dunkin. Its been a while, but they are good. I'm not against it but I don't go out of my way to get it." Mr. Anderson also said, "Uh, ya definitely [pumpkin spice is becoming too much] I think the whole consumerist type, buy buy buy, it's just about money, I mean it used to be about the pumpkins now it's just about the money," he jokingly said.
I asked Ms. Trudeau what her take was on the pumpkin problem.
"I specifically like pumpkin spice for fall season. I can't drink it when it's too warm outside. its a cool weather flavor in my opinion. I also feel I can only have pumpkin spice in hot beverages not cold, and by that I mean coffee." Agreeing with the point Mr. Anderson made, Ms. Trudeau thinks, "Yes [there is too much pumpkin spice] and it can be over powering when not done correctly."
Now for the opinion everyone has been waiting for. I asked Ms. Taylor her thoughts, and she was pretty passionate about her answers.
Ms. Taylor said, "I have a lot of feelings about pumpkin spice, I think in moderation yes [she does like pumpkin spice]. We all like warm spices, I'm a baker, I love like the cinnamon and the clove, the all spice, the ginger, I love all of those things; however, any chain you go to that is going to give you pumpkin spice is not pumpkin or spice. It's just a combination of gross things that should not go into your body and there is too much of it.
There is a way to make Pumpkin Spice syrup and its always better, its healthier for you, and I could eat a vat of that stuff. You can put it on your pancakes, you can put it on your oatmeal, eat it like soup like I do sometimes," Ms. Taylor said jokingly. "It could be so good on ice cream. So yes, I like the flavors of pumpkin spice but no I almost never order it somewhere."
Ms. Taylor agrees with most when it comes to the over do of pumpkin spice, "I think it belongs in coffee and donuts. I was at Trader Joes yesterday and they have Pumpkin Spice tortilla chips. Ewww! You're gonna dip that in salsa? No! Hard No! So yes I think it's very over done. Coffee and donuts and candles because I love the smell of it, but other than that, no."
What do you think? Do you really think a pumpkin a day is worth it, even if it supposable keeps the goblins away?