What's in a Sutton Superfan?
How should we support our Sammies and Suzies in the playoffs?
With the fall sports season coming to a close and our teams having another stellar year, I found myself wondering what it takes to be a Sutton Superfan in the playoffs. For the regular game attendees among us, I'm sure you know that I'm a regular season Superfan, but this will be the first time I'm cheering on our boys and girls in the playoffs since the Sammies basketball team won states three years ago.
Seeing how this is Mr. Levansavich's first year as athletic director, I wanted to know how he was feeling, what he was looking forward to in the postseason, and take a look back on the regular season.
I asked Mr. "Lev" what he wanted to see from the Sutton faithful in the stands in the coming weeks, "Respectful behavior. Fair, fun, appropriate behavior. Cheer loud and hard, but do so with respect and awareness for opponents. Please be courteous to the other team, their parents, coaches, the refs, and your own players/parents."
It was made quite clear that respect is paramount to Mr. Lev's dream of a playoff student section. Superfans are gonna be there no matter what, but we'll also get the fair weather fans who only show up for the playoffs, students who don't know the system and expectations, so I believe it is vital to spread the importance of respect to as many people as possible.
This obviously isn't the first time we've had teams with aspirations of deep playoff runs, so I sought out someone who's been a bona fide Superfan for his whole high school career. I wanted someone who's been on the receiving end of the cheers as well, in order to get an athletes perspective. After heavy consideration,  I settled on Sutton's very own Joshua Jenkins.
Josh can't wait to scream his heart out for the Sammies and Suzies in the coming weeks, "I'm ecstatic for it, you know, senior year, last chance to do this. I've been doing this for all my high school career, so it feels great to get one last shot at it and really get a fun time going."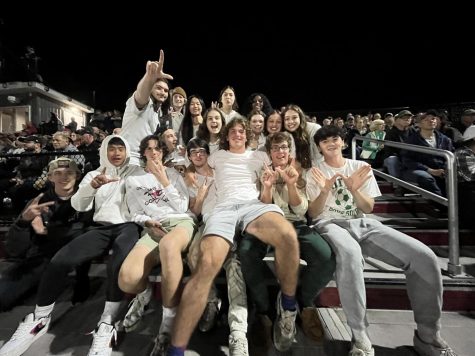 This isn't Josh's first rodeo, of course, so I wanted to know what he's seen in the past that he wants the students to replicate this year. "I've seen a lot of themes… and I really want to replicate that. I remember, last year, the Monson game, where the girls upset [Monson]…that night was probably one of the best nights of my career because the whole entire school showed out… that's what I really want to do… show a little school spirit and take pride in our athletics."
Taking pride really struck a chord with me, because during the regular season, I noticed that pride was something we were severely lacking. When I asked Mr. Lev about the regular season turnout, he expressed a bit of disappointment; "It has been good, but we could get more students, and staff, at the games."
I sought out a student who was present for many of our games this season, Charles Marchand, to see how he felt about our season, and also what he looks forward to in the playoffs.
I started asking Charlie what he felt was missing during the regular season; "People. I think there was not enough of a "Barnyard" [Sutton's name for our student section] showing at most of the games. There was Homecoming, many people showed out, but there was not enough of a presence at most of the games, which I was pretty ashamed of… No excuses for these Barnyard games. You gotta show out, be loud, but there was not enough of that this year."
Charles has been around for a few of our deeper runs, as well, so I asked what he was looking forward to in the playoffs. "Winning, and, obviously, a big 'Barnyard' presence at all of the games. I'm just excited for it to be loud, excited to be a part of, and excited to be a part of a student section for a winning team."
I finished all my interviews with one simple question, "What do you have to say to the students who are on the fence about attending our playoff games?" I will let their responses speak for themselves.
"Please show your support as the athletes know who attends and it is something they truly appreciate. Nothing is better than seeing classmates and staff sharing in your (a student's) athletic experience." – Mr. Lev
"Go, trust me. You get four years to do this. It's genuinely a good time, plus you get to show some school spirit, which we've been lacking since the class of '22 has left. At the end of the day, it is our school, and we have to represent it like it's the best school in the world." – Joshua Jenkins
"Just go, you'll have fun. You don't go to any playoff game and not have fun, so maybe you got a little school work that you're worried about, just got to the game, do it later. It's the playoffs, time to go to a game." – Charles Marchand