The 64th Grammys Overview
Once again, The Grammys produced multiple reactions from attendees and fans alike. 
The 64th Grammys this year was hosted by Trevor Noah, his third consecutive year of hosting the show. Some of his jokes this year fell flat, most notably making singer Harry Styles noticeably uncomfortable with the comment, "women throw their panties at this man" and him being  "sex symbol of the globe"  Many people called these comments inappropriate and uncalled for. 
There were several highs and lows throughout the night. Some of the performances lacked luster although most were electric and engaging. Bad Bunny's opening performance brought many artists to their feet, including Taylor Swift who was seen dancing throughout the night. 
She danced to Harry Styles' performance (her ex) and the two shared a couple words, which had fans excited about.
Styles's performance at the biggest stage was average. He seemed off and his notes were shaky. Although as Vulture mentions Harry played five shows in the last ten days prior to his Grammys performance which may have contributed to his mediocre performance.
Many people were surprised with the winner of the song of the year being, "Just like that" by Bonnie Raitt. She beat out the biggest songwriters, including Taylor Swift, Lizzo, and Kendrick Lamar. Even she seemed to be surprised, when the camera panned to her. Although at least the Grammys are selecting new people and expanding out of the expected winners.
The Grammys winners are always controversial. Many fans think they are not always given out to the right people. The Grammy awards are usually controversial because of the huge fan bases that these artists have. These fan bases can be aggressive, and even the artists themselves can not support some of their fans. 
When Styles won Album of the Year, a person in the back yelled "Beyonce!" during his acceptance speech alluding that she should have won. Taylor Swift stayed standing during his speech, giving him a friendly face to look at from the stage.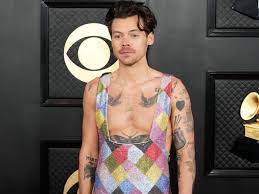 She knows all too well what it feels like to be heckled during awards shows. This could be seen during the 2009 VMAS, where Kanye stormed the stage when she won the best female video award, instead of Beyoncé. Her show of support could have been her empathy for him or their past relationship. 
Despite not winning album of the year, Beyoncé broke records winning many awards, including Best Dance Recording, Best Dance/Electronica Album, and more. 
Despite being late this year in LA traffic, Beyoncé  overall has thirty-two wins and eighty-eight nominations, making her the artist with the most Grammy wins. She gave a heartfelt speech about being recognized as the most decorated Grammys artist. 
Overall the 64th Grammys had a lot of great performances, and a great tribute to the hip-hop 50th anniversary. Quavo paid tribute to Takeoff, and other artists including LL Cool J, and Public Enemy gave their respects to hip-hop.
On the biggest night for music many musicians came to celebrate their peers, and pay tribute to legends before them. It was overall a great night, and fun to watch.