The History of StuCo
It makes the school year fun
Sutton High School Student Council
Google's definition of "Student Council" is a group of students elected by their peers to address issues of concern and organize student events and activities. But, the Student Council here at Sutton Memorial High School is so much more than that!
The student council at Sutton, today, in comparison to Google's definition is the fact that it is an open council. An open council means that anyone can join the student council at any point in time throughout the year- and the Executive Board and council members currently make it such a welcoming environment to come and be a part of.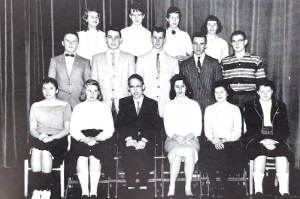 The Student Council has done multiple events, such as school dances, such as Spring Fling or the week of Homecoming, Mini Olympics, Mr. SHS, and even Deck the Halls and the Variety Show for Christmas time. But what about the beginning of Student Council at Sutton? How did we get to where we are today compared to the past?
Iowa City Community School District emphasizes roles and responsibilities of the elected officers. This school district "gives the student body a voice in decisions that concern them as individuals, … [and creates] a place where everyone is an important person" and that is what Sutton High School's student council has done for the past seventy years. 
I had an interview with Ms. Kari Farmer and she states, "The Student Council has always been a vital part of Sutton and I genuinely think it will always be."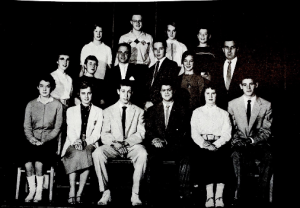 Today, Farmer is the Sutton Middle and High School Librarian, and together we looked through yearbooks all the way back from the 1950's. We found how the students came to be a part of Student Council right after their "Social Period" where they partnered up and danced together. 
Going even further within the history, Primary Research claims that "The first concept of a Student Council began 'in 350 B.C. in which Plato gathered a group of young philosophers around him…' The student leaders were elected…by the students themselves".
In conclusion, Student Council's have been around for a long time, both around the world and right here in Sutton. Sutton High School values the Student Council and their determination to make the school environment more welcoming and fun.
"
"The Student Council has always been a vital part of Sutton and I genuinely think it will always be.""
— Ms. Kari Farmer