Soccer in Brazil
Soccer in Brazil is unique and part of its culture.
Soccer, known as "futebol" in Brazil, is the most popular sport there. Soccer plays a role in Brazil's culture, race, politics, and population.
How was it introduced? Who are some of the great players? What's Brazil's soccer style and what does it have to do with their culture? And why is it popular?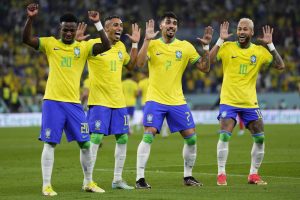 Soccer was introduced to Brazil by Thomas Donohoe, a Scottish immigrant. The first match played in Brazil was in April 1894. It was played on a pitch marked out by Donohoe near his workplace in Bangu.
In 1888, the first sports club was founded in the city of São Paulo. Campeonatos (championships) started to take place, like Campeonato Paulista and Carioca. Charles Miller played a great role in bringing soccer to Brazil and being a part of Campeonato Paulista.

Brazil has amazing players that were and are famous all over the world. Some of these players are: Garrincha, Cafu, Roberto Carlos, Romário, Rivaldo, Ronaldo Nazário, Ronaldinho, Kaká, Neymar, and Falcão (futsal player). The most famous of all is Pele, also known as "The King of Soccer." The body that governs football in Brazil is the Brazilian Football Confederation (CBF, Confederação Brasileira de Futebol).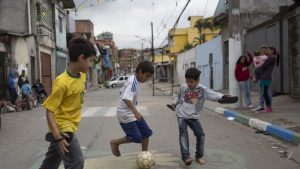 Brazil has a very unique way of playing the sport, called "Ginga" which means sway. It is called that way because of the special and entertaining moves of Brazilian players. It is more than a sport, it is art.
Ginga was inspired by capoeira, which is a martial art that includes dance, acrobatics, and music; it was developed in the 16th century in Brazil with African roots. Ginga was also inspired by samba, which is a Brazilian solo dance where you move your legs and feet but keep your body straight.
What are examples of Ginga?  Dribbling, using different parts of your foot, and juggling. The style is built upon agility and how a player "dances" with the ball. An unexpected back heel, the no-look pass, walking past players while juggling the ball on your feet and thighs. It's all about bringing dance, cheer, joy, and art to the sport.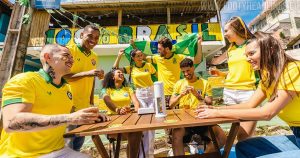 Ginga is a part of Brazilian culture–how they talk, walk, and interact. In the streets of Brazil, and South America, Ginga is iconic. It is encouraged in street and beach football.
Soccer in Brazil is so popular because of how much Brazilians love watching and playing the sport. They are so passionate that they refer to Brazil as "O País do Futebol" ("the country of football"). Brazil has won the World Cup five times, during the World Cup Brazilians go crazy and the streets are full of cheer and Brazil colors.  As someone who was raised in Brazil and grew up with the people around me being so passionate about it, I can write that it is part of the culture, it is one more reason for one to get together with friends and family to make a barbecue and watch a game or go out to play for fun. It is more than just a sport.