Sutton High School has implemented a new policy regarding use of cell phones that has sparked mixed reactions among my peers.
During class, students are required to place their phones in numbered caddies (often referred to as cell phone parking lots, jails, or hotels). While the intention behind the policy is to reduce distractions within classrooms, its effectiveness has students and administrators divided. 
Perhaps administrators assume that students are looking to communicate with friends in other classes. While it is not necessarily untrue, it puts all students into one category regardless of our individual motivations.
Any time I have my phone I find myself texting my mom, posing questions that I'm too scared to raise my hand in class to ask. I feel that for students like myself, the policy is more of an inconvenience than anything else.
Story continues below advertisement
To many others, it's an act of oppression. Students feel that it's their personal property, and that they should be able to use it as they see fit. We have been told, if a student is seen with their phone in the hallway during a class period, their phone will be confiscated and the student will receive consequences no matter the individual's situation.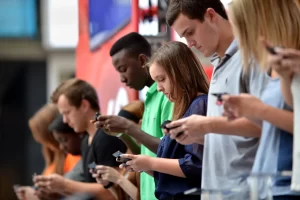 If the policy applies to students, it should also be adhered to by all staff. According to several sources, many of the teachers who require students to put their phones in the caddies, continue to have their own personal cell phones out on their desks and check them periodically during the class period. 
But is having a cell phone in class all bad? 
In reality, cell phones can be valuable learning tools. Having our cell phones allows us to instantly access reference materials.
If an unfamiliar word or concept comes up in class we can quickly research the topic without having to disrupt the discussion. This immediate information can lead to increased understanding of the subject matter and can spur more meaningful exchanges of ideas among students and teachers alike.
Furthermore, cell phones play a crucial role in emergency situations. In the case of emergencies such as serious illness, violent acts, or other life-threatening situations, having our cell phones readily available allows us to reach out for assistance from authorities.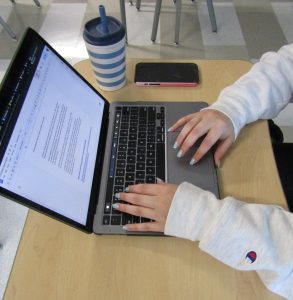 For several students that I spoke to (all students interviewed requested to remain anonymous), one of the main concerns that repeatedly came up was that "if the fire alarms are going off, the phones in the pockets aren't accessible, so if it were a real emergency we wouldn't be able to text our parents. Yes they would receive an email but more importantly they'd want to know if we [their child] are safe and okay."
In the case of emergencies that happen outside of school, parents also feel more at ease knowing they can reach out to their teen, reinforcing the importance of maintaining access to phones during school hours.
It is important for Sutton High School to find a balance between minimizing classroom disruptions and the benefits that cell phones can offer students. Perhaps there is a middle ground that has not yet been considered and they will be able to refine their new policy regarding usage during class.