In the past few years the sport Pickleball has gained popularity, but why? What is so good about pickleball and why do people prefer it over tennis? 
Well, for starters, the game was invented because of congressman Joel Pritchard. One day, when he was bored, and with his family, the game was created. Originally the family was trying to play badminton but they could not find the rackets. Thus, they used ping pong paddles to play.
As time went on slowly it had adapted into a game with a lower net, to make it easier to play. Eventually people all around started playing the game and then in 1976 the first ever pickleball tournament was held in the South Center Athletic Club in Tukwila, Washington. 
Tennis, on the other hand, was invented by Major Walter Clopton Wingfield in 1873. Now this version of the game was way older, so over time it has changed quite a bit. In Europe the game became very popular, and soon it spread all around the world. 
But what is the difference between the two, pretty similar games? From statistics most people who play pickleball are between the ages of 18-44, and most people who play tennis are between the ages of 20-30. Pickleball already has more popularity based on the age gap alone. 
From the year 2022 one million more people over the age of 55 joined the tennis community, and in the last three years the percentage of people who play pickleball has skyrocketed. Mainly in 2021 when the average number of pickleball players jumped to 4.8 million. 
When playing pickleball, a smaller paddle and a less bouncier ball is used. That is one of the reasons why most people have said it is better than tennis. In tennis the player uses a heavier racket with strings, and a pretty heavy and bouncy ball that could hurt if one is being hit with it.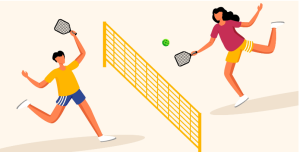 In general, having a smaller paddle has tons of benefits including being easier to control, lighter, and just smaller making it better at swinging around faster. While playing pickleball the serves are also underhand serves, which tend to be much easier to do than overhand serves  that are usually used when playing tennis. 
When playing pickleball, it is not required to jump around the court too much, and it does not require heavy activity, making it easier to play. Not having to do heavy aerobic activity to play the game appeals to many audiences, including older folks who may be slower, not as flexible, and such. The game also could appeal to younger teenage audiences by not being "too difficult", they do not have to move around much. 
Except, pickleball is not always great and there are plenty of cons to playing, including injury. The article Is Pickleball Risky? What Injury-Prone Players Need To Know by Caroline Burke, states, "In fact, pickleball injuries are expected to cost Americans $400 million in medical bills this year, according to CBS News." 
The article also stated that it's not necessarily injuries increasing, it is the number of beginners that play. "The game is easy to learn, which means a lot of beginners are on the court. People who may have no athletic background or natural athleticism are finding themselves playing this sport at a later age."
When beginning a new sport usually it is not easy to learn, but pickleball happens to be an exception. People have been playing it more often, but without true experience it could lead to injuries such as rolled ankles and torn hips.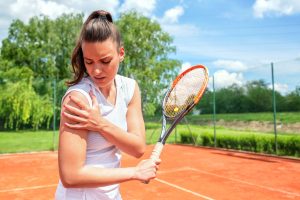 Some advantages pickleball has over tennis is the fact that tennis is harder on the knees. It is said that in tennis about one fifth of the injuries are related to knee issues. There are three common types of injuries caused by tennis: shoulder issues, knee issues, and elbow issues. 
Inflammation in a player's elbow from too much movement (Tennis elbow) is caused when the muscles around the players elbow are overused and start to inflame. Some of the shoulder issues are caused from overuse of the rotator cuff muscles, and if the rotator cuff is weak it causes rubbing in the socket.
In the end there are many pros and cons of both pickleball and tennis. It truly does not matter which sport is played more often, but from the research pickleball has more players since 2022 (about 12.9 million players more than tennis). Continuing to grow and become more popular, as of now pickleball is considered "better" than tennis. 
Story continues below advertisement