It is no secret that we live in a time period dominated by technology. These new evolutionary devices have made a big impact on the way we live our lives, including our reading habits.
Over the past decade, the population of Americans that read has declined 7% and now less than half of the American population reads books. There are several reasons why.
Technological Distractions
One of the primary reasons why people are reading less is the rise of technological distractions. With the arrival of smartphones, social media, and streaming platforms, people are bombarded with easy and accessible entertainment.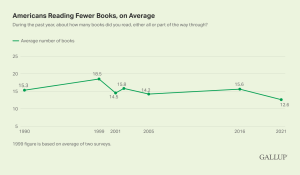 It found that many children now spend more than triple the amount of time engaged with screen media than they do with books. There is a massive allure of scrolling through social media feeds or binge-watching TV shows. This often takes precedence over reading a book.
Shortened Attention Spans
The digital era has also contributed to shortening attention spans. The constant exposure to bite-sized information and instant satisfaction has made it challenging for individuals to engage in long readings.
According to Microsoft Canada, attention spans in "2000 were an average of twelve seconds long. However, by 2013, it was eight seconds long, and goldfish, by contrast, can go nine seconds."
"
Seriously, is your attention span less than a goldfish?
Many find it difficult to concentrate on a book for an extended period of time. They typically prefer quick and easy digestible content.
Lack of Reading Culture
The decline in reading habits can also be attributed to the lack of a reading culture in society. With the rise of visual media, such as movies and TV shows, reading has taken a backseat.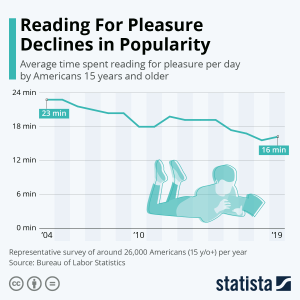 On average, the daily time spent reading by Americans was 15 minutes a day in 2022. Compare that to the fact that on average young people in the United States engage in approximately 11 hours of entertainment media a day.
Additionally, the absence of encouragement and exposure to reading in schools and homes further diminishes the inclination to read.
Alternative Forms of Information
The internet has become a vast source of information, providing quick answers to questions. While the accessibility is beneficial, it has also led to a decline in reading. People now rely on online articles, blogs, and videos for information, often neglecting the depth of information that books offer.
Although technology certainly has an extremely negative impact on reading habits, it also has contributed to some benefits with the introduction of digital reading. Electronic books or e-books have made reading more accessible and convenient. There no longer is a need to go out of your way to visit a library and search for a book you want to read.
With the introduction of e-books now people have access to anything they wish to consume with the click of a button. Additionally, digital tools such as dictionaries, thesauruses, and language translations help improve reading comprehension and vocabulary.
Busy Lifestyles
The internet is not the only aspect that has impacted the decline of reading.
Modern day life is fast-paced, leaving little to no time for activities such as reading. People are constantly juggling multiple responsibilities, such as work, school, and family commitments. Consequently, reading is often pushed to the back of the list, as individuals prioritize other activities that seem more urgent or necessary.
Between all the work, responsibilities, and household chores, some are lucky if there is time to sleep, let alone read. Reading can take so much time, especially when some books have up to one thousand pages.
"
This article has less than 1,300 words. Compared to The Stand by Stephen King (approximately half a million words), this article is barely anything!
What do we lose from the Lack of Reading?
Reading expands your knowledge considerably. It helps the brain grasp opportunities and helps see things not visible before. If you don't read, nothing happens. While the world advances around you, you remain the same. Reading is one of the most important things you can do to exercise the mind.
More than six million children in the United States will experience negative academic, personal and social outcomes every year because of poor reading skills.
Reading allows you to see both sides of a conversation. It helps to have a stronger vocabulary and spelling skills. Reading affects your academic future. Children who don't finish high school are not qualified for 90% of jobs and will earn an average of $23,000 a year. On the other hand their peers who do go to college will earn an average of $48,000 a year.
Books, also, contribute greatly to our imagination which is so important. Imagination leads to elaborate theories, dreams and inventions in any profession.
"
Reading is a vital skill that helps children learn and grow. It enhances their cognitive and language skills, improves their concentration, and expands their knowledge about the world. Reading books helps children understand different cultures and perspectives, which is essential for their social and emotional development."
— Dr. Pamela High, a pediatrician at the American Academy of Pediatrics
Reading at Sutton High School
I asked our librarian, Mrs. Farmer, about the decline in reading at our own Sutton High School. And she gave a very unexpected response, "I've actually noticed more of an increase in reading at Sutton High School."
There are three main reasons why reading has increased at Sutton High,
First, the pandemic has played a role in the increase of reading. "I feel that students at Sutton are reading a little bit more since the pandemic" says Mrs. Farmer. Having nothing to do at home may lead to picking up a good book.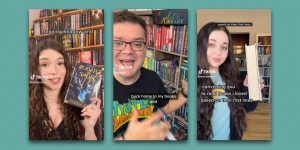 Second, the app TikTok has positively impacted the reading community. Mrs. Farmer says that, "with TikTok and people now posting books that they are reading and I see more students coming into the library looking for books they see on TikTok."
Third, the changes made to the library helps reading become more exciting and relevant. "We got rid of thousands of outdated books and replaced them with books that students are more interested in reading. We have eliminated more non fiction and factual books and replaced them with more high interest fiction books that kids want to read."
When picking our books for the library, a lot of different factors have to be taken into account. Curriculum is important as the books must fit what various classes are teaching, but also what would the students here enjoy the most. "So I am looking for something that supports the curriculum and enhances the curriculum, but also I use apps like TikTok, talking to students to find out if there are books out there that kids are actually interested in and I think that they would actually pick up and read."
These changes started taking place in 2016 and already the library saw a huge change in statistics. More than 4,500 books were checked out of the library and the numbers kept climbing since then.
Nationwide reading is decreasing, but here at Sutton we are improving our reading habits! Keep it up Sutton!
Conclusion
While the decline in reading habits is a cause for concern, it is not an irreversible situation. Encouraging a reading revival requires a collective effort from schools, families, and society as a whole. Promoting the benefits of reading, creating reading-friendly environments, and incorporating reading into daily routines can help reignite the love for books.
By recognizing the importance of reading and actively working towards fostering a reading culture, we can ensure that the joy and knowledge found within the pages of a book are not lost to future generations.
Story continues below advertisement