Bruno's: A Day in the Life
Pizzeria Bruno's Owner Discusses What Goes into Serving Pizza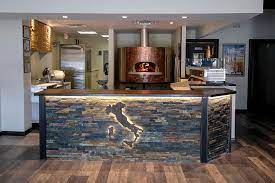 In August 2020, Pizzeria Bruno's opened in Galaxy Pass in Sutton. Over the past year and a half, Bruno's has become a part of the Sutton restaurant scene as well as the community, being voted the best pizzeria in town by a Sutton High News poll. By now, the restaurant is well known for its quality of ingredients and brick oven cooking. Pizzeria Bruno's is owned by brothers Marcello and Davide Bruno, who are both originally from Italy. I spoke with Marcello Bruno about how Pizzeria Bruno's got started, its role in the community, and what goes into running a restaurant. 
A day at Bruno's begins before the restaurant opens, when ingredients are prepared for the coming day: "We prepare every day, the dough and vegetables, and everything we need for the pizza. We open at 11:30 AM; we start the shift with the door open for lunchtime" 
According to Bruno, fresh ingredients are a priority. The restaurant features a relatively short menu in order to make sure fresh ingredients are used: "We decided to do only pizza, and sandwiches, and salads, pretty easy. I think the key is to not make too many things, stay with the short menu, but keep everything fresh. If you start to do too much, it's difficult to keep everything fresh." Pizzeria Bruno's ingredients are also imported from Italy through a supplier in the area.
Since its opening in 2020, Bruno's has gained popularity among Sutton residents. The restaurant has expanded its capabilities in order to meet the needs of customers, changing the day- to-day operations of the restaurant. Bruno's recently began offering lunch, after serving only dinner during the COVID-19 pandemic. Despite the restaurant's late start, Bruno is optimistic about its rising popularity: "Every day is better because people get to know that we are open for lunchtime"
Bruno's has also increased its ability to serve customers in different ways, especially for dinner. At this point in time, dine in, takeout, or delivery are all available at the pizzeria. These services have proven essential for Bruno's, especially in a time when dine-in customers are becoming less common. "After four, we start the dinnertime. We do dine-in, or take-out, which is the most popular. Now it's seventy/eighty percent to go, and twenty/thirty percent here." 
However, Bruno has found that a full delivery system is difficult to maintain and represents a large amount of resources. Bruno's currently relies on third party apps for their delivery service: "We offer also delivery. We started with our own delivery, but it was too much…the drivers…So we decide to reach with Grubhub and Doordash. We deliver with the two companies."
I asked Bruno how he decided to start serving pizzas in Sutton. He explains that community was a big factor. "We started [our] first business in Italy in 1995 for fifteen years, and then we changed and we sold." says Bruno. "We go to just bar, no food. My brother moved here ten years ago, and … I came here to visit him a couple of times. I saw the streets and the town, and I decide to change. My last job was just bar, and it was not my favorite job, so I decided to restart with food again. …We decide to stay here in the town because my brother lives here…I think it's a good idea to stay in the community."
According to Bruno, authentic cooking methods and imported ingredients have made the pizzeria an outgrowth of his culinary experiences in Italy: "We're just doing what we did in Italy, the same thing with the same products; it's easier for us. The oven is the same, everything is the same. People here are nice, and we are pretty happy for now.
 In a small town like Sutton, local businesses and restaurants can play a part in the quality of the community. Pizzeria Bruno's brings a new culinary tradition to Sutton that people are now able to experience. According to Bruno, its place in the community is already becoming apparent. "Our staff is from Sutton…ninety percent. When they ask from the school to help with the yearbooks and some sports, we are trying to help them. Also, we brought some good food here."