New England fall travel and activities
Fall is a perfect time to spend time out in nature, whether its apple picking, walking through the changing leaves or pumpkin picking. There are so many amazing activities to do during Fall that can get you out of the house and out into the community.
This picture was taken right outside of my house when my sister and I decided to take a walk around the neighborhood.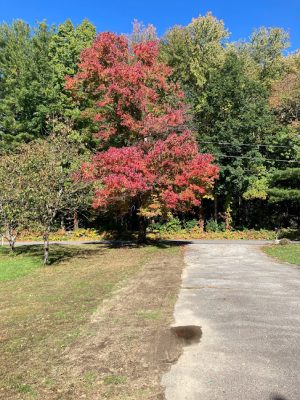 Just over an hour from Sutton is a special place that is full of nature. For over 150 years the Arnold Arboretum has educated Massachusetts about trees and plants. It's a free outdoor tree and plant museum. There are many walking tours and festivals during the fall season. Located just an hour from Sutton taking a short drive out to Boston could be a great family bonding activity. In edition to walking tours there's also art shows and opportunities to experience art in nature. Art is important to educate people about the world around them and in this case the nature and outside world is the art. In a special section of The Arnold Arboretum there are over 40 bonsai trees native to Japan. In the 1940's many bonsai plants were donated to the arboretum. Honestly, its really crazy to think about how old some of these plants are and the history behind them being donated. Being able to experience nature and how it correlates with art sounds really inspiring and interesting. Overall a trip to observe nature up close sounds great and fun for all ages.
Another fun thing to do in the fall is apple picking. Every apple orchard across New England is unique and special in their own way. My favorite orchard is definitely Woodstock Orchards. I've been going to Woodstock Orchards in Connecticut every year with my grandparents for as long as I can remember. It's not even about getting apples and candy anymore, it's about the memories and spending time with people who are important to you.
Family time is so important and there is no better way to do it than out in the community. If you're not into apple picking there's a little store right by the entrance of the orchard with doughnuts, pies, peanut brittle and so many other treats that could bring a family together around a table. Most of the produce is displayed outside of the "Apple Barn." Inside of the Apple Barn is where the treats are made from all of Woodstock's varying types of vegetables, fruits and other produce.
Here is a picture from the entrance of Woodstock Orchard.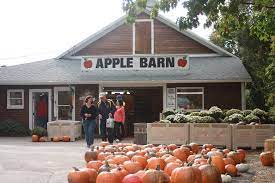 Out of all the seasons, my favorite time of year is definitely fall when the leaves start to change colors and the air starts to get crisp and cool.  There are so many fun things to do in this amazing season. I highly recommend spending time outside at any of these places or somewhere of your choice.