Let the Shopping Begin
Have we taken the Black Friday excitement too far?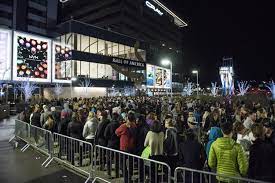 When November 24th comes around and America is stuffing their faces with turkey, participating in apple pie eating contests, and watching college football, the night slowly ends and everyone goes to bed, many are preparing for the real race. Not football, not a pie-eating contest, on November 25th a new holiday was born: Black Friday.
In the 1950s the Philadelphia Police named the day after Thanksgiving Black Friday due to the chaos that came at the "end of fall" and the "start of the holiday season". It was a day when shoppers and tourists came from all over to mark the start of their Christmas shopping.
When I was little, every year my parents and I would get up at 5 am, stop at Dunkin' Donuts and get coffee and Munchkins, and we would be off ready to start our shopping.
In these past years stores have not been opening as early because their employees cannot spend the time with their families that they deserve. Originally stores would open anywhere from 12 am to 5 am and wouldn't close till normal hours. People would line up in ridiculously long lines, waiting to buy things solely because they are cheap.
There may be those who say, "It's just discount shopping. How bad could it be?" Since 2006 17 people have died a black Friday sale-related death, and 125 have been injured due to the major sale. There is a Black Friday Death Count website.
The most recent death was in 2021 when a 28-year-old man was shot at Walmart in Northeast Austin just before the store closed for Thanksgiving. He was later taken to the hospital and died due to the holiday chaos.
Also in 2021 2 people were killed in downtown East Chicago, on Black Friday. They were shot to death around 4 pm at the corner of 139th and Main Street. The first victim died on the scene and the second victim died later in a hospital.  There are many other incidents just like this on the Black Friday Death Count website.
On the other side, there are many benefits of Black Friday. You get some great deals. Prices are very low, probably the lowest they will be, so it's a great way to get a lot of your Christmas shopping done. Unlike Cyber Monday, you get to see things in person and go out with your friends and family.
Maybe it's just my family but every year after we get up, after we get our coffee and shop around, we hit the Christmas tree farms. We walk the uneven grounds, and maybe take some pictures of us holding Tree Pose. We would strap the tree to the roof of my dad's jeep and try to figure out how to get it in the house. Then after what feels like years, we get to go to my Grandma's house for a well-deserved Turkey Sandwich, which is arguably better than the actual Thanksgiving meal.
Some argue that Black Friday is not all that. Some say it takes away from Thanksgiving, the main event, and only teaches the next generation about overconsumption and taking more than we need, but you can argue that's all Thanksgiving does, too.
Thanksgiving originated to be a day to celebrate thanks for the harvest and the past year. Though in our past years, it has become more and more about consuming massive quantities of food and less about giving thanks. There can be all this amazing food on the table, but if you forget the mashed potatoes one year you are gonna hear about it still three years later.
So if you want to argue that Black Friday is what is wrong with society and the reason for talking is on our means and overconsumption, then at that point just cancel every holiday. Christmas is less about the birth of Christ and more about receiving presents. Halloween is less about warding away ghosts and spirits and more about wearing costumes and begging strangers for candy.
Some places go a little too Black Friday crazy, but I think around here in Sutton, the tradition has only become more enjoyable for everyone else. Our stores open later for the benefit of the employees, and crowds are managed and controlled so everyone can enjoy the fun.
So if you are going Black Friday shopping this year, then I'll see you there, and remember to treat the employees with kindness. They work hard to make this happen for you plus you get more flies with honey. No need to be sour and mean.