The Bold, The Young, and The Talented
Smash hit as the Sutton High School drama club presents a hilarious comedy
Another year and another great comedy put together by the Sutton High School drama club, The Bold The Young and The Murdered. On a set of a failing soap-opera, The Bold and the Young, the cast is told that they need to film the final episode of their show or else the show is going to be cancelled and taken off the air. When a new intern is hired, she is instructed to lock the doors from the outside to make sure that the final episode is filmed. The cast members start dropping like flies as there is a murderer on set, and they have to find out who it is.
This hilarious comedy had everybody in the crowd laughing while trying to solve the murders at the same time. Alexander Woodcock as Morris or "Jake Strong" as his character in The Bold and The Young is the only one on set with any sense of idea knowing who the obvious murderer is, but no body else will hear him out or has any common sense to see all of the clues. All clues lead to the new intern Keri, played by Natalie Huggins who tries to act clueless and denies any connection to all crimes. When Morris tries to confront her in front of everybody she simple says "no" and everybody believes her.
More and more people continue to be murdered as pointless death threats keep being tossed around. The undercover FBI agent, played by Maggie Jakubiak, has been working as a cast member on the soap-opera for many years and finally comes out as an FBI agent to solve the murders. She places blame on every person and tries to find a motive for everybody, not ruling out anyone on the murders. Maggie does very well at acting bad at her job, and throughout the play had many funny lines and played a big role in this play.
Although everybody, including the director, did an incredible job, the true highlights were Alexander Woodcock, Timothy Zaluski, Jackson Hersom, and Natalie Huggins.
In this play it seemed like everybody seemed to have a big role, but Alexander Woodcock was definitely the main character. Alex does a fantastic job playing his part as a hunky hero who is overwhelmed with fears that his butt is flat and he is losing his sex appeal. He was very funny and did an amazing job. He has great chemistry with the villain of the story, Jackson Hersom. The two of them acted very well together.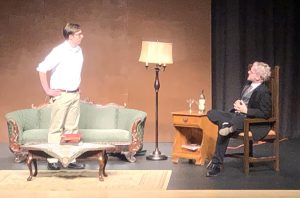 Jackson Hersom is a grumpy old man who has been in the business far too long and constantly demands a nice bowl of soup. He plays the villain and does a nice job putting on an Eastern European accent for his role in the soap opera. He was very good at acting like he didn't want to be there; all he wanted to do was get the scene over with and go back to his trailer with a nice bowl of soup. He tosses death threats around like it's nothing and was very mysterious and oddly wise about the murders. Overall, Jackson did an incredible job.
If you didn't know Natalie Huggins, you really would believe that she was incredibly dumb. She does a great job playing the new intern who doesn't have a thought going on in her brain. She also did very well at making it very obvious that she was the one committing all of the murders, even though nobody on the set had enough of a clue to figure out that it was her. She was a very big part in the play and did a great job in her role.
Without further ado, Timothy Zaluski playing the wannabe famous actor who thinks he is above everybody and only cares about himself was a fan favorite. If you know Tim, this role is even more impressive because you would know that he keeps to himself and just does his own thing. He added so many funny lines and did an amazing job being loud and obnoxious and made it very well known that he was going to be the star of a new movie with Matt Damon. Tim and the whole rest of the cast have a very bright future in acting.
Mr. Loss directs an incredible play every year and this one was certainly one of his best. The whole cast does an incredible job in this play and it really was enjoyable to watch. I can't wait to see what the drama club has in order for us for February but