Mental strength in tennis is necessary
Tennis looks easier than it seems
Tennis seems easy, right? It's actually very difficult and requires a ton of focus.
The first time I played in a tennis match, I thought it was going to be a breeze. I remember before the match I was in the zone and ready to play. Moments later I found myself distracted. A parent cheered in the crowd, a bee was buzzing around me, a loud car drove by, and a dog barked in the distance.
It's really just you and the opponent plus mass amounts of distraction. If you get distracted for even a second, it's very hard to recapture the pre-match mindset and perform well. After making a mistake,  it's very common to doubt yourself.
Not only did I experience this, but pro players do too. Research shows that tennis is 80% mental, and 20% physical. Nervousness, self doubt, and lapses of concentration all contribute to one's performance on the court. This can apply to many other sports as well.
Believe it or not there is a way to overcome this.
"
Learn to accept mistakes because they can create opportunities.
After watching the tennis documentary "Break Point", I decided to research how professional players feel on the court and how they learn to tune out distractions and self doubt.
Nick Kyrgios is a professional tennis player from Australia. He has been to several Wimbledon tournaments as well as numerous Opens. Although he has achieved many great things in his career so far, he receives a lot of judgement. He was given the nick-name "Wild Thing" because of his response to making mistakes on the court. He has smashed rackets, and talked back to the umpires and fans. He learned to tune out the hate and focus on himself.
In an interview, he claimed that showing self-doubt is his own way of manipulating the opponent. This has worked very well for him, and he even went on to beat some of the greatest tennis players.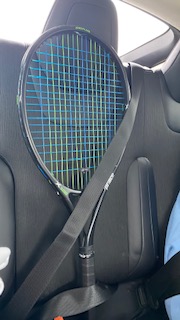 You may wonder how it's possible to achieve confidence and focus during the match without displaying anger as a form of manipulation. 
One mistake is all it takes to have your confidence ripped away from you. You hit the ball out of bounds three times in a row, you serve a double fault, and you're losing the match. The fear of failure is what haunts most tennis players, and it also affects so many people in life.
So how exactly do you make a comeback? Remember why you are there in the first place. Ask yourself why you chose to play tennis. Look back on how far you have come and just have fun! When you have fun and remember that sports are for enjoyment it helps.
"
Encourage yourself and find confidence in your abilities.
During a match just focus on the ball, and encourage yourself that you can do this. If you mess up, focus on winning the next point. If you lose the match, focus on winning the next one. Learn to accept mistakes because they can create opportunities. Encourage yourself and find confidence in your abilities.
Like I said, most of tennis is mental, but that does not mean the physical part is not a challenge. Not only do tennis players need to have focus, drive, and confidence, but also hand-eye coordination, strength, endurance, body composition, tactical intelligence, and so much more. If you have the confidence and encourage yourself, but cannot swing your racket properly or cannot move on your toes, then that is going to set you back. Once you master both aspects (mental and physical) of the sport then you are on the track to great success!
I highly recommend playing tennis. I started playing last year, and it's never too late to start!