The multimedia entertainment world is growing, two billion dollars worth to be exact. 255 Sands Ave, Las Vegas is home to a new 366 ft. tall and 516 ft. wide sphere, reinventing Sin City.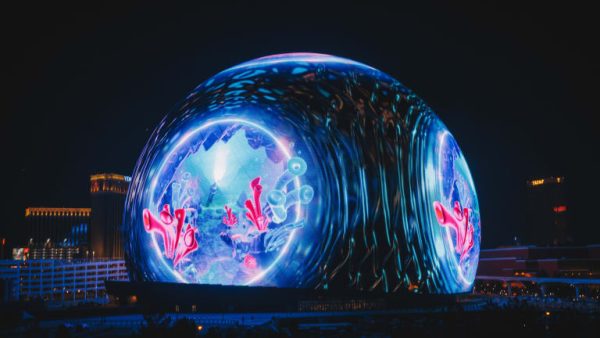 After nearly five years of building on the Las Vegas strip, The Sphere is welcome to be a new landmark in Las Vegas. Starting on September 29th, the famous rock band, U2 , will have a residency for performances, and people are loving it. Yet, the prices may deter people from going. 
As tickets went up, they hit a range of $277 to $496, which is honestly common in this day and age. However, after resale on Ticketmaster, the prices for this experience were leading to upwards of $1,400. For a range of mind, concert tickets in the early 2000's cost attendees about 40 dollars.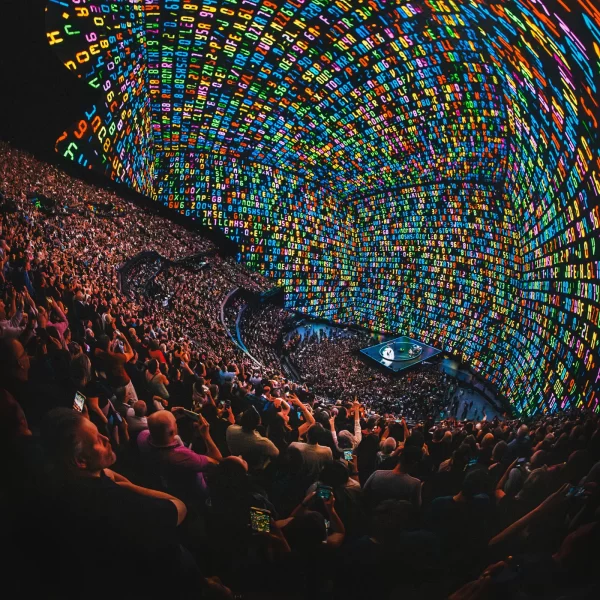 Now, why this price for a concert? What is so special about this sphere and why is U2 the residency?
U2 is a well known rock band, originating in Dublin. They became incredibly popular in 1977. The four members of the group, Bono, The Edge, Adam Clayton, and Larry Mullen Jr., together since 1976. Some of their most popular hits are 'With or Without You', 'Sunday Bloody Sunday', and 'Beautiful Day'. This residency is lasting for approximately 25 shows. 
Next, what makes this sphere so special? Maybe, it's the two billion dollars it took to make it. How about the 2.3 billion LED lights that accompany all of the electrical to give you that life-like appearance? Well, why? This is reinventing Las Vegas. Bright lights and flashy objects grab people's attention easily in today's society. Why not, fully immerse them in a world with the famous band U2? 
There has been a swarm of media and videos of the inside of this masterpiece. People have gotten videos showing the seemingly impossible cinematography. It is said to be a new and immersive world, an experience unlike any other. The bandmates have even said this places you into a new world, and has a futuristic feeling. 
The sphere welcomes 18,600 people for the enjoyment of each show as well as standing space in the pit of the venue. It has been said that being in the higher levels closer to section 400 gives the most immersive experience with a view of the massive screen that actually has a different clip portraying what each song of the set list would look like according to the band.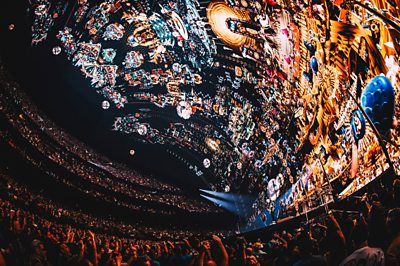 There is a different way of interpreting this show to every single person. Chris Willman expressed, "It also feels like a circus marrying some kind of foreign-film aesthetic. With all the heart, soul, and silliness…appropriate to the host city." 
Now, something like this has happened before there are big stories on a failed performance center called the 'Kingdome.'
March 27, 1976, was the grand opening of the venue able to seat 54,000 people at a time. The Kingdome was the largest concrete roof in the world stretching to 7.85 acres. It's similar to the Sphere–to people this venue was sparkling new. It drew people in and had great success until the concrete ceiling began to settle and even tiles began to fall near seating. March 26, 2000, the building went through a controlled implosion supposedly because there had been issues with the concrete roof and didn't seem to be safe anymore. This also made room for a more improved venue if need be. 
Is that the future for the Las Vegas Sphere? Did builders bite the bullet with this expensive and architecturally complex dome? We will see in the future. 
As of right now, enjoy this masterpiece of a concert experience as long as you are willing to invest for a seat. 
Story continues below advertisement