Football aims for the playoffs
Coach Moseley has the team on the right track
Football is still an infant in the Sutton community, here for less than a decade. While it has had a small taste of success, Coach Pat Moseley wants the team to compete for the playoffs on a yearly basis. As he starts his third year as head coach, he can look back on the past two years and see improvement. In year one, the team finished 1-9, but last year improved to 4-1 even with COVID hovering over them. Essentially, the team is heading in the right direction, and Coach Moseley sat down to talk with us about the team.
Sutton News: Let's talk about last year's team. What were the primary contributing factors to their success?
Coach: The seniors really wanted to show progress that we have taken over the past years. They really wanted to leave their mark, working individually throughout COVID, and made success on the field their primary goal.
Sutton News: What are this year's team strengths?'
Coach: We have another really good senior class (eight) that have started since sophomores. Four of our offensive lineman are seniors and have run this offense for three years. Having two guys like Noah Ostrowski and Briant Johnston in the backfield and how physical they are, defenders will not want to tackle them and they will have excellent holes and lanes to run through thanks to the linemen.
Sutton News: Who are your leaders? Please share what they bring to the team.
Coach: We have four captains: Kelvin Paulino-Acosta, Briant Johnson, Evan Matukaitis, and Joe Hennessey. They show the younger players, on and off the field, how to approach the game, preparing, hitting the weight room, focusing on form, and really explaining everything during practice.
Sutton News: What are your goals for this year's team?
Coach: Ultimately, we want to make the playoffs. We want to put together a good year, week to week, winning one game at a time, and keeping our focus on the next game.
Sutton News: What are some long term goals you have?
Coach: Maintaining a JV program is crucial. We should have twenty kids from both schools, and involve more Douglas kids. We have a game at their field this year (vs. Nipmuc) and we hope to continue to build our program from the ground up and have name recognition throughout Central Mass.
Sutton News: What can fans expect when they come to the first game?
Coach: A team that will fly out of the gates, pick each other up when things go wrong, and play four strong quarters of smart, smash mouth football.
Sutton News: Thanks, coach, and good luck.
Leave a Comment
About the Contributor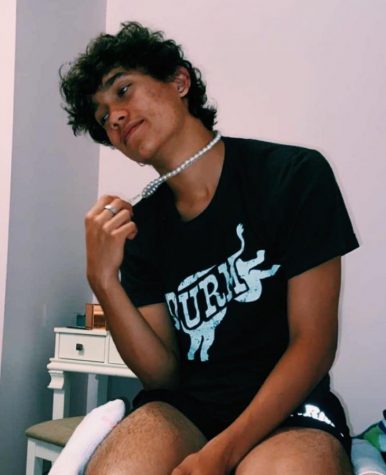 Alexander Ramos, Staff Reporter, Photographer
My name is Alexander Ramos, most people know me by Alex. I was born June 11th, 2004 in Worcester, Massachusetts and raised in Sturbridge, Massachusetts,...