Tyson Fury vs Oleksandr Usyk
The Biggest Fight In The Heavyweight Division.
Tyson Fury and Oleksandr Usyk are two of the biggest names in heavyweight boxing. Tyson "The Gypsy King" Fury is a British boxer. He stands at 6'9", weighs 269 pounds, has with a record of 33-0-1, and is the current WBC heavyweight champion, having held the title since defeating Deontay Wilder in 2020.
Oleksandr "The Cat" Usyk is a Ukrainian boxer and smaller, listed at 6'3", 220 pounds with a record of 20-0. He has held multiple world titles in different weight classes notably beating Anthony Joshua. 
A fight would break one of the fighters undefeated records. The two fighters have been rumored to fight each other for many years but most recently we're rumored to fight at the end of April but the talks have slowed down.
Both sides are encouraged to get a deal done but word from Usyk's management is that Fury, or what Usyk refers to him as "greedy belly", wants more money.
Fury, an orthodox fighter, is a very technical boxer. He uses an effective jab and counter-punching to his advantage. He also has very good footwork.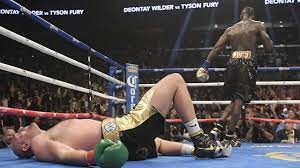 Fury is known for completing a trilogy fight with Deontay Wilder in which Fury won two and tied in the first fight.
The first fight had the most drama and was the only one that was really a close fight. Going into the 12 round it seemed like this round would decide the winner depending on how you scored the fight.
Wilder had shockingly knockdown Fury in the 12th round and there were no signs that he was going to get back up. Miraculously Fury rose before the ten count.
The round went to a decision. The three judges scored the bout 115-111 in favor of Deontay Wilder, 114-112 in favor of Tyson Fury and the last judge scored it 113-113 resulting in a draw.
Fury then went on to defeat Wilder two times in a row in much less drama-filled bouts. 
Many boxing analysts are giving Fury the edge here but I think we can not underestimate Usyk who is just as dangerous in the ring. 
With this fight on hold both fighters could look to take a fight before negotiation with Deontay Wilder, Anthony Joshua, and Andy Ruiz being worthy challengers to both of them 
A matchup between Tyson Fury and Oleksandr Usyk is truly the fight all boxing fans want to see right now. Whether we get to see them face off, only time will tell.