Living and Learning: the Senior Internship Program
The Sutton High internship program brings learning beyond the textbook and into the real world.
The transition out of high school and into the real world can be one of the most challenging adjustments for teenagers and young adults. Whether you go to college, enter the workforce, enlist in the military—life beyond the doors of high school is strikingly different. 
For instance, your future boss is not going to ask you to recite the quadratic formula on the spot. They will, however, be interested in your experience and skills outside of the classroom; it is important that high schools properly equip their students for this pivotal first step. Sutton High School is doing just that.
The Sutton High senior internship program has easily become an integral part of the Sutton culture. Piloted in spring of 2015, the program has evolved from 20 students that first year to 100% senior participation in recent years. 
Principal Ted McCarthy, who originally piloted the program, reasons that "an internship gives the students a chance to experiment with [the real world] but at the same time be connected to a place that's gonna support them and make sure they're successful". In this way, the seniors are able to take their accumulated skills and knowledge and apply them to real world situations, while continuing to come into the building for AP classes, playing spring sports, and being an active member of the school community. This gives the seniors the best of both worlds.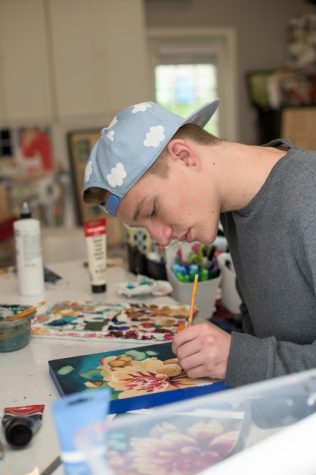 "That's kind of the beauty of the way our internship runs; it's on an individual basis. It's not necessarily cookie cutter" – Sergio Marcucci
Internship coordinator, Sergio Marcucci, notes, "We kind of know that senioritis is a real thing," and that the last months of school are a drag for seniors. "We thought they could get a head start, like on a resume builder or professional network". Two birds with one stone, an internship turns the slum of senioritis into productive work experiences, while giving seniors space to create meaningful high school memories.
A student from the class of 2019 reflected, "My internship has to be one of the best things to occur in my entire high school career as it has given me that taste of real life I was in dire need of. Doing what I love gives me a whole new perception on my future and what is to come. And seeing babies born at UMASS Memorial is something special". 
Running this internship program does not happen overnight, as Mr. McCarthy explained. "Ours works because of how our scheduling works: we have Mr. Marcucci, because the staff understands the idea of trading content at the end of the curriculum for this experience". 
The partnerships with businesses also play a vital role in the success of the program. Multiple businesses have remarked on their positive experiences with Sutton High interns:
"The Sutton High School Internship offered a great opportunity for a local student to work within our family business. We were eager to provide our intern* with a variety of exposure such as administrative and factory duties. We at County Heat Treat looked at this chance to work with Sutton High School as an investment in our company. Exposing young minds and building excitement within those young minds is a win not only for the intern but our company as well! We hope to be able to participate in this wonderful program again!" – County Heat Treat (2019)

Photographer: Trisha Cullen (2019)
Understandably, the program has definitely been impacted these past years. Business and industries are already quite limited in Sutton, and with increased businesses being unemployed, downsizing or working remotely due to COVID-19, has "definitely had an adverse effect on our program", said Mr. Marcucci.
Mr. McCarthy says, "Hopefully next year, everything's back up and running full speed", and the program can pick up where it left off. Because these internships not only benefit the seniors, they "help all the other kids. It helps the staff to see that the things you're doing in school actually do matter. Seeing it manifest in the real world, I think makes an impact for kids". 
Despite the numerous obstacles set forth, the continued success and perseverance demonstrated by Sutton High School's internship program's students, staff, and administration, highlights the uniqueness of a small school creating big opportunities for their students.
* Name removed