The Struggles of Being a Senior in High School
Seniors are challenged with college decisions, budgeting, scholarships, and the overall fear of the future.
Finally, it's your senior year in high school! Time has genuinely flashed by, and now you are turning eighteen and about to make future-changing decisions. But don't fret; you've been preparing for this moment your entire teenage years. With helpful influences such as High School Musical, Zoey 101, and Drake and Josh, the class of 2022 is ready for senior year. 
After missing out on two normal years of high school due to COVID-19, coming back to a more normal situation at school was not only exciting but comforting. Now, as we look further into our futures, seniors face college decisions, scholarships, budgeting, senioritis, and the general fear of missing out.
College in the media's perspective is written as getting ready for adulthood and embarking on a new chapter. As mentioned earlier, movies and TV shows focus on depicting the real college experience while neglecting the hard facts. College is just another layer of school and work. Because of the negative connotations attached to college, high school seniors tend to have unrealistic expectations for how students live day to day. In reality, applying to college involves an enormous amount of not only self-discovery but the reassurance that the place you choose will be the right fit for you. There's more to choosing a college than its name or reputation. Seniors must remember campus culture, extracurriculars, academic programs, financial aid, possibly dorm life, career services, and people. 
Along with the pressures of thinking about colleges, seniors also consider scholarships and budgets. The media also glosses over the insane amount of pressure to choose a college and then factor in how you can pay for it. A general misconception is how easy it is to apply for college and receive scholarships. Today, many advances in technology, apps such as the Common App are so helpful while applying to colleges. Other websites such as Bold.org and Niche assist students who need scholarships. 
Another constant worry for high school seniors revolves around the possibility of student debt. A growing problem is college debt and the struggle to stay afloat as a young adult. Studies show that more than half of students can't afford college tuition after going through the pandemic. Because of the rising costs due to inflation, college tuition is becoming an unattainable goal for seniors choosing to go to college.
CNBC collected data on rising college costs. Post-pandemic, many families and students are struggling financially, impacting their ultimate decision on where they go to college.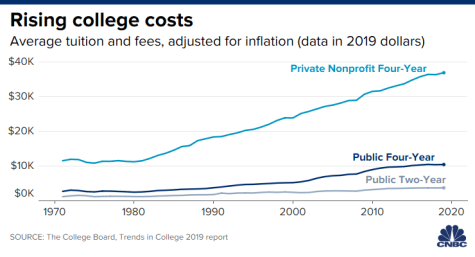 The future alone is terrifying, and becoming an "adult" is one of the most challenging transitions in teenagers' lives. As it is, seniors, especially the class of 2022, feel the need to compensate for missing out on two years of high school. The fear of missing out has been very apparent coming out of the pandemic and entering the once known normal society. 
Many struggles involve making future decisions. That's not to say to just worry and not enjoy your last year in high school; just be conscious of who you are and what fits best for you.