Ime Udoka Suspension
How should coworker relationships be addressed?
Boston Celtics Head Coach Ime Udoka was recently suspended for the duration of the 2022-23 season for violating team policies. The suspension was a result of a inappropriate relationship with a female member of the franchise.
Some members of the Celtics found out about the relationship in July and only recently decided to launch a set of interviews. The woman accused Ime of making unwanted comments toward her which initiated the interviews.
Ime was caught in July by the woman's husband. He overheard a conversation on his Ring doorbell between the two of them.
Jayson Tatum, a power forward for the team, says he found out about the incident on Twitter. He says the whole team was caught off guard and they must continue moving forward and playing basketball.
Point guard Marcus Smart said he would like to know more about the situation but understands that it is delicate. All of the information came fast to the team and has been hard to process with the lack of details. The whole team is waiting for more knowledge as is everyone else.
Forward Jaylen Brown said the team didn't know what to say but there was lots of confusion throughout. He was asked if Udoka would return to the team after the suspension. He said that it would be unfair for him to comment on that considering that he doesn't know much.
The Celtics President of Basketball Operations Brad Stevens announced that assistant coach Joe Mazzulla will become the interim head coach.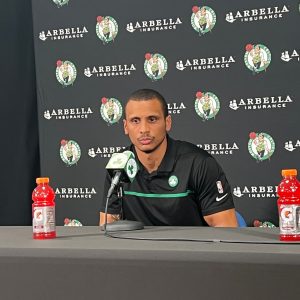 Mazzulla was charged in 2008 with underage drinking and aggravated assault on a police officer. He was also arrested in 2009 for suspicion of domestic battery and was cited in 2010 for public urination with one of his teammates at West Virginia. Brad Stevens vetted his background before hiring him as assistant coach in 2019.
Joe Mazzulla's first step was to lead the team through their training camp which started on Tuesday, September 27th. Stevens has confidence in him even though it's never what anyone expected to happen.
But what should be thought of the relationship between the coworkers? Was it just Ime's wrong doing or should both sides be punished?
Human resource specialists' toughest assignments are dealing with workplace romance. Let's take a look at different versions of coworker relationships and how they should be handled in the workplace.
First off, completely banning romance between coworkers isn't realistic. No matter the restrictions you put, they will find a way to work around them. Workplace romances aren't against the law, but certain behavior can cross an ethical line.
According to the Society for Human Resource Management (SHRM), 3/4 of employees are comfortable with their coworkers being involved romantically.
Office romances can occasionally turn out okay. Barack and Michelle Obama are an example of this. They met while they were working at the same law firm.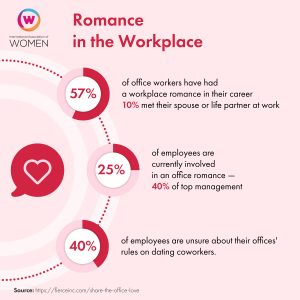 But, relationships can also go wrong- whether it was an employee with a boss or the relationship ends poorly.
In some situations relationships in an establishment are tolerated. For example, if it was a small family owned business it is more acceptable and understanding than in a bigger company.
Having a formal policy and making it clear to your employees will ensure that they are aware of the rules. A smaller business will most likely have looser rules than a hierarchical company. Also consider whether or not people should be working together if they are romantically involved.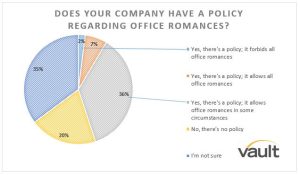 When one fails to close a relationship for the better of the company, they could end up getting removed. Jeff Zucker, president of CNN Worldwide, resigned after failing to disclose a relationship with the Executive Vice President and Chief Marketing Officer Allison Gollust.
At World Insurance in Edison New Jersey, Diane Dooley is in the process of writing a handbook for these office romances. This handbook would apply to all businesses, even the small family-owned businesses.
When companies have a very strict policy, people tend to keep more secrets. Setting boundaries is a very good way to control things and making sure they are realistic is even better. Having a current approach on these situations is huge as it will protect employees while letting them have a responsible relationship.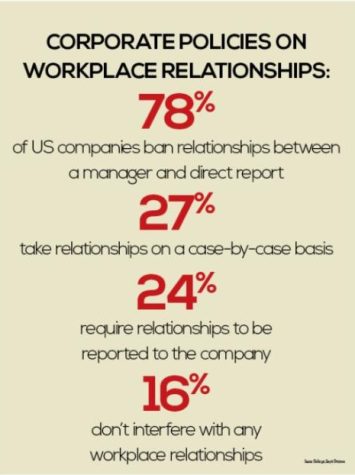 A popular approach that companies take is having a "love contract." I know, I know, it sounds weird but let me explain. In simple terms a "love contract" is when employees sign off saying they are in a consensual relationship and agree to certain professional behaviors around the office. Vanessa Matsis-McCready says these agreements are helpful because "they show the origin of the relationship was indeed consensual." These agreements help the company if one party tries to say that they never wanted the relationship.
Ime Udoka knew the rules of the franchise going in, as did the woman. I'm not sure what the policy actually is so I can't tell if it is out of date or within current standards. Regardless, they were a part of a company and broke the rules. They made the decision to go against the policy and they had to face their consequences.