Kanye Facing Consequences for Antisemitic Comments
The rapper has gone too far this time
Kanye West, or Ye, has been known for his record-breaking music for years. He has been one of the most influential artists with his hip-hop albums. He has 24 Grammy Awards and over 160 million records sold. 
However, West has been in the news recently for many controversies. West is no stranger to controversies as he has made several past comments that have put him in hot water.
At this year's Paris fashion week, Kanye's collection featured a "White Lives Matter" shirt, and he appeared with Candace Owens wearing the shirt. In a Guardian Article detailing the fashion week controversy, it is noted that: "The Anti-Defamation League categorizes the phrase White Lives Matter, which reframes the Black Lives Matter phrase used to protest against brutality, as a hate statement."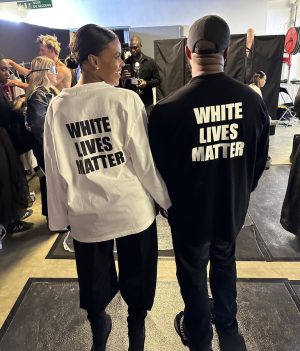 Clearly, Kanye faced immediate backlash for these shirts. While people were disturbed by the clothing, not everyone was entirely surprised by his choice to wear the problematic clothing. 
In 2018, Kanye faced major backlash after he made comments on TMZ Live. A Billboard article at the time gives details on the controversy and Kanye's statements, "When you hear about slavery for 400 years…for 400 years? That sounds like a choice,' he said in the interview on Tuesday (May 1), which he followed up with 'Right now, we're choosing to be enslaved."
Kanye tweeted that he was aware that slaves were not enslaved by choice. Billboard adds his clarification that "he was using the enslavement as a metaphor for censorship and restrain from free thought, which he will not be subject to." 
Despite Kanye saying he was using slavery as a metaphor, these comments still had negative impacts. Even if he regrets saying it, Kanye was voicing misinformation and sharing hurtful comments to his audience, some of which may believe what he says. 
Recently, Ye has been banned off of Twitter and Instagram after extreme anti-Semitic tweets. In the tweet, Ye stated he was "going death con 3 on Jewish people." 
Clearly, he faced immediate backlash for these statements. Kanye's accounts were suspended on Twitter and Instagram, and after pressure from the public, the footwear company Adidas ended collaborations with Kanye. 
A Washington Post article details the end of the partnership between Ye and Adidas, "After weeks of silence and mounting public pressure, the German company — the last major holdout among Ye's business partners — announced it would immediately 'end production of Yeezy branded products and stop all payments to Ye and his companies.'"
An NPR article adds other details, such as quotes from Adidas' statements, including: "Ye's recent comments and actions have been unacceptable, hateful and dangerous, and they violate the company's values of diversity and inclusion, mutual respect and fairness." 
NPR adds in the article that the recent controversy brings attention to the founder's ties to the Nazi party. 
Gap recently ended its partnership with Kanye in September after weeks of feuding. This was said to be due to Gap not following agreements determined in the initial contracts. 
It is important to note that Kanye's recent erratic behavior is likely influenced by his Bipolar Disorder. 
Mayo Clinic defines bipolar disorder as " a mental health condition that causes extreme mood swings that include emotional highs (mania or hypomania) and lows (depression)."
In a New York Post article reviewing Kanye's Bipolarism, the artist has had many moments that are believed to be connected to his bipolar disorder, such as interrupting Taylor Swift at the 2009 VMAs.
Kanye's 2020 presidential campaign is also listed as a moment of a manic episode. The New York Post article details the rally: "Sporting a bulletproof vest and with "2020" shaved into his hair, the rapper gave an emotional and, at times, hysterical speech later in July. 'I almost killed my daughter,' yelled West, as security guards looked on with concern, describing how he and Kardashian debated an abortion."
Kanye also proceeded to state once again that slavery was "a choice", and even stated that "Harriet Tubman never actually freed the slaves."
Ye's recent comments are only the most recent controversy he's stirred. But it is now that companies are finally removing partnerships and Kanye is actually facing true backlash after comments.