Should Metal Bats be Illegal in College
Metal bats are a huge advantage over wood and should not be used in higher levels.
It is very impressive to play college baseball at the next level. Most people who play in college have dreams of playing after college, so shouldn't they use the same bats that the professionals use?
Some will argue that it doesn't matter if you are playing in the Division Two or Division Three level, yet in last year's draft there were 17 Division Two players that got drafted, and as of 2019 there have been 46 Division Three players drafted. Although the target audience in this article is Division One, it is still very possible for any level. 
If there's a chance for anybody to make it to the professional leagues, then why wouldn't they use the same kind of materials that they would use in the minor or even major leagues? I looked at this through a scout's perspective, and it seemed like it would be hard to fully scout someone using a bat that enhanced their game. 
The advantages that metal bats have over wood bats are obvious. A metal bat is lighter than wood – by more than 5 ounces, the barrels are bigger, and because they are lighter they can be swung much faster which results in much more exit velocity off of the bat. The hardness and resilience of aluminum can also result in much greater speeds when the ball comes off the bat.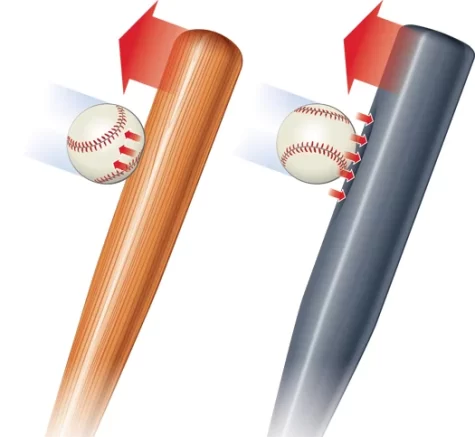 Professionals don't use metal bats because they are the best players in the world, and they have the nicest and fastest swings. If they used metal bats it would be very dangerous and someone could get severely hurt, so why are some of the top prospects in the world using metal bats? A ball struck by a metal bat goes on average 15 feet farther than a wood bat, and although that doesn't seem like a lot, that could be the difference between a pop out and a home run.
Another advantage of metal is the forgiveness and durability. If you face someone throwing 90 miles an hour with a metal bat, and hit one off the handle, or the end of the bat, nothing will happen besides pain in your hands, and it may even drop in for a hit. While if you get jammed by a 90 mile an hour fastball with a wood bat, it is going to break, and the ball has a much lesser chance of dropping in than if you used metal. 
After doing some research, the reason that high school and college programs use metal over wood is to save funds on broken wood bats. But looking a little deeper into it, a top notch wooden bat usually won't cost you anymore than $180, and it is most likely going to be lower than that. I looked at the most used bats in college and high school in 2022, the DeMarini 2022 Goods bat, which is a $335 bat, and then looking at the second most popular bat of 2022, the Louisville Slugger 2022 Meta, which is a $400 bat. If all nine starters on a team were to get two wood bats a year, at a $170 average, you would spend $3060 dollars total. If you were to buy only one metal bat, for all nine starters, at a $375 average, you would spend a total of $3,375. 
You really are spending more money getting one expensive bat for each member of the team, then if you got one wood bat for every player, plus an extra one. Keep in mind that not every player is going to break their wood bat. 
Once you get into the college level everybody should be using a wood bat. It would be better preparation for levels after college and it would help financially.