Is Russell Westbrook Washed?
When Russell Westbrook was at his prime, he was known as an explosive, energetic player. He led the NBA with statistics at levels that we've never seen.
Since 2010, Westbrook averaged 20+ points for 11 seasons, while also averaging a triple double for four seasons, three of them consecutive. He is the player with the most triple doubles (double digits in three categories, usually points, rebounds, and assists), and he was an MVP. He was that guy.
Yet lately, the media and fans at games have criticized him for not meeting expectations set by his prime ability. It's not fair to criticize a player just because he is not at his prime. In the 2016-17 NBA Season, Russell Westbrook averaged 31.6 points, 10.7 rebounds, and 10.4 assists. Only Westbrook and Oscar Robertson have done this. Oscar Robertson led the NBA with 181 triple doubles in his whole 14 year career. Russell accomplished this in less than three seasons, an amazing accomplishment.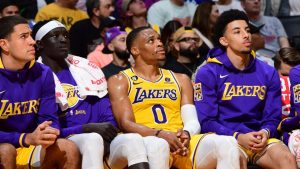 The criticism has actually affected his life which he admitted at a press conference. He said he doesn't bring his kids to his games anymore because it makes them uncomfortable to hear their father get called names. It has also affected his play. For the most part, NBA players do better at home games, but even Lakers fans are clowning this man and shouting names, causing him to not be able to play how he wants to play.
To get a triple double is hard enough, but to average it for multiple seasons is just Westbrook being on a whole different level. Still, there are those that question if he was ever as good as we thought.
The first reason people disagree with the fact that he was a good player is that he has always been surrounded around All Star players. Three seasons after Kevin Durant left Oklahoma City, Westbrook joined the Rockets in 2019. He averaged a double-double and still put up exceptional numbers.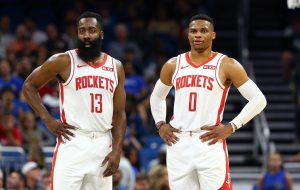 Still, people say this is where his skills, energy, and all around worthiness dropped. Also, he was with another great player, James Harden.
People thought this team would win the Finals, and they didn't. Russell Westbrook has found himself to be the league MVP, and was called the best player in the world very often. He was an idol for NBA fans, kids, and many more, but he has not won a championship.
Russ left Houston the next season. This is another reason people think he is either washed or doesn't deserve the attention he gets. Meaning that it could for him to be disloyal after giving up on the team their first season. After the 2019 season on the Rockets, he went to the Lakers for two years, playing with one of the best players of all time, Lebron James. He put up stats that weren't so impressive, and started to be known as "Westbrick" because of the shots he took.
Normally, when players leave their prime, they aren't as good because of loss of athleticism, not skill or IQ. What we've been seeing with Westbrook the last two seasons is not lack of athleticism, stamina, or energy but his situational awareness and decision making. He keeps taking highly contested shots, rushing the ball, giving off bad passes, and just forcing plays. This is why people are questioning his worthiness in the sport. Yet, when he gets the open chance, he still provides the explosive dunks and amazing energy he had before. He just seems to have lost his flow for the game.
Most players, after reaching a certain age, get too old and unfit for the NBA. Though, a lot of them don't allow it to tear down their career. They make adjustments according to whatever stat, or athletic ability dropped.
Many people think all it takes to be in the NBA is skill and athleticism. NBA players are as focused on as many aspects of their game as they can, and the greats adjust as they age. Here is where he differs from most and is why people think he is washed. If he applies the same strategy as other greats, adjusting to his loss of athleticism, he will most definitely remain an impressive and useful player in the NBA.