Sammies and Suzies Soccer Preview 2023
The Suzies are coming off of back to back state championships. The team has achieved significant success in both their league and the state level. So much in fact that they've accepted an invite to move from Division Five to Division Four.
Although they have had major success in recent years, they lost six seniors. The Suzies are going to have a lot of roles to replace but should be able to do so with the upcoming talent. Although the Suzies are losing lots of talent, both of their state championship runs have mainly been driven due to their young talent.
The Suzies have sophomore captain Ava Magnuson returning. Ava scored 27 goals and had seven assists in 2022 and scored 19 goals as an eighth-grader while playing a partial season in 2021. She was also a Dual Valley Conference all-star and MVP of the Central Mass Athletic Directors Association (CMADA) Class C Tournament.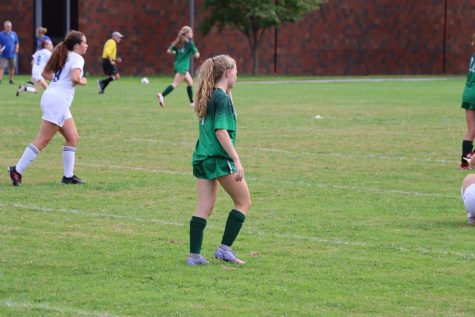 I got a chance to talk to the three captains Addy Jerome, Anna Joseph, and Ava Magnuson about the upcoming season. I started off by asking Ava what qualities have helped the team to have great success on the field. "The team has a great bond and everyone respects each other, which helps us on the field."
I then asked Anna her thoughts on the upcoming season and she said "I think it will be good, we have a lot of players coming in and we work very well as a team." In addition, I asked her how the talent and leadership that was lost from the class of 2023 will affect this year's team. "I think it will have a big impact because they really had a lot of leadership on our team and they did a really good job bringing us together."
Finally, I asked what message they would like to send to their fellow students and supporters to rally their support for the team? When asked, Addy said "I would like to tell them that the support has been so great throughout my past two years and to keep it up because we aren't going to disappoint."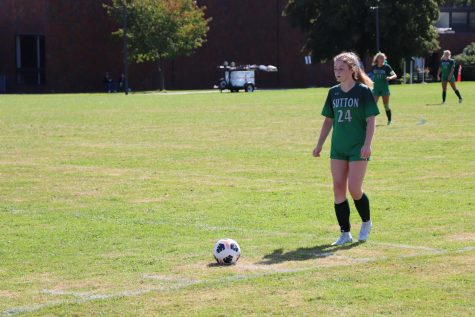 Of course the Suzies couldn't do it all on their own. They have coach Jensen Shipp, Angel Canales, and Jenna Fitzgerald to lead the team. The three returning coaches have been a part of both championship runs. 
I asked Coach Jensen what were the goals they set for the team this season? "Our goal is always to be the best version of ourselves and the team decides where they want that to take us in terms of on the field accomplishments and how we are able to get there."
I also asked what the expectations for team chemistry are and how do you plan to create a strong bond among the players both on and off the field? "During the first week we come together as a team, we will meet and revisit our goals, expectations and culture from the previous year and make any tweaks that the team feels necessary for the upcoming year so we are all on the same page going forward. The group already has that strong bond with each other and the program from years past. There are already so many positive relationships that translate immediately to the team on and off the field. We will always strive for a competitive environment that supports each other individually and as a team." 
The Suzies are excited to compete for a third state championship in three years and want the fans to be with them the entire way. They also want to show everyone how great they are going to be in their highly anticipated 2023 campaign.
The Suzies aren't the only soccer team in Sutton though. The Sammies are also looking to follow up their impressive 2022 campaign and are looking to go back to the state championship in 2023.
But, the Sammies don't have an easy path to success. They lost seven seniors who had a major impact on the team. Although they lost many players due to graduation they will have nine senior players for their 2023 campaign.
The Sammies have the potential to have a very strong season. But they are gonna have to step up big time to fill the shoes the class of 2023 left for them. 
Connor Mulderig played for the team last year. Mulderig led the Sammies all year with his stellar season from the net as he recorded 17 shutouts. His role will certainly be hard to replace but the Sammies won't back down from the challenge.
I asked senior captain Tighe Rogan questions about the season. He started off by talking about the 2022 season and the effect it has on the team this year. "We had a great season making it to the state championship but I think most people including myself wanted more than that. I think people are very excited and hungry for it. The key to having a good season is keeping that motivation."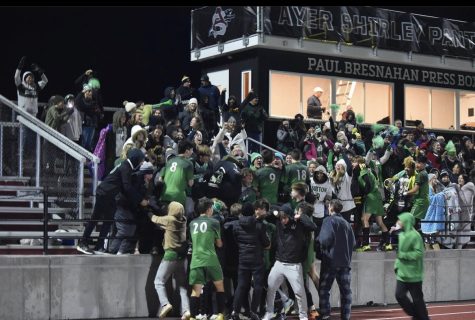 Senior captain Kingston McGee also gave me his thoughts on the season. "I think everyone is optimistic and excited about the season to come. All the guys are super eager to get back on the field together and have a great season."
I asked Tighe what the goals were for him and the team this season. "I want to act as a leader to my teammates on and off the field. We have some young players who will be playing big time roles and I hope I can help them out. As a team our overall goal for the season is to take home the state championship. It's not going to be easy but we are capable with the talent we have. We know what it means to play for (our school) and we are excited to show what we have.
Kingston added "We had a great season last year which only leaves us with one goal which is to win it all. We are all looking to do our parts to help the team achieve that championship."
The Sammies are led by long time returning Coach Elster. Coach Elster has never had a losing season and has found tremendous success at Sutton. He has won many DVC titles, MIAA state championships, and also won MIAA Boys Soccer Coach of the Year in 2014.
The Sammies and Suzies are both set up to have successful seasons. The players and fans are all very excited for the season to begin. Good luck to the Sammies and Suzies in all of their games.