Volleyball sets their sights high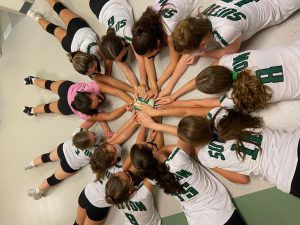 The volleyball team started the 2021 fall season with hopes of making a deep playoff run for this season and started off with a 3-2 win in an away game against Bethany Christian.
The 2021 team is led by Senior captains Carly Beaulieu and Abby Chase, who are both two year varsity starters and led by Head Coach Erin Messier.
The team has a lot of talent on their roster and many of the girls are natural athletes. The team is full of hard workers who work hard no matter how the game goes.
Coach Messier lost her Senior captain Leah Stowe last season but setter Brynn Courtney has stepped up to the plate this season.
Coach said, "Losing seniors is a natural part of the evolution of a team. But having underclassmen come up to the team to contribute. Freshman Sydney Scott has stepped up and she's starting middle hitter for the team after not playing on varsity last season."
Senior Riley Towle did not play last season and Coach Messier believes that she will have a breakout season as she is showing promise as the team's right-side hitter.
The team has a tough schedule this season with teams like Nipmuc, Wachusett, Shepard Hill, Bartlett, and BVT. These teams have always had historically good volleyball programs but Coach Messier is confident in her team to get business done.
When asked how the season will go Sutton High School Teacher and JV co-Coach Amber Trudeau believes that the girls all want to be there to get better and work very hard.
Both teams have a common goal to win this season and make it to the playoffs which with hard work and dedication is a very big possibility. The team practices hard everyday after school and they scrimmage each other to get the feel of competition among themselves.
One thing that the volleyball team wants the school to know is that school spirit and fan attendance adds fuel to fire. Good luck to the volleyball team during this season; it seems that they are in good hands.