Who is Jon Jones?
Is he really the greatest of all time?
Jon "Bones" Jones is an American mixed martial artist who is signed to the UFC and is a former two time Light Heavyweight Champion. He held the title from March 2011 to April 2015 and from December 2018 to August 2020. He is now also the new undisputed UFC heavyweight champion of the world. 
Jones has a career filled with legal issues and personal troubles but is considered one of the best fighters of all time. He holds many records in the Light Heavyweight division and also became the youngest champion in UFC history.
Jones lost his first match when he was disqualified by a referee because Jones used illegal 12-to-6 elbows which caused a lot of controversy. 
Jones was set to fight Mauricio Rua in the main event of UFC 128 on March 19, 2011. The morning of the fight Jones was with his coach in New Jersey when a man robbed an old lady. Jones and his coach chased after the man down the streets and turned him over to the cops after they caught him. Jones then defeated Rua that night to become the youngest champion in UFC history.
After becoming a champion, Jones seemed to have all the potential in the world to become one of the greatest of all time, but things started to go downhill afterwards.
Around eight months later in New Mexico he was put into custody in the parking lot of a club after police found out he was driving on a suspended license. The charges were later dropped.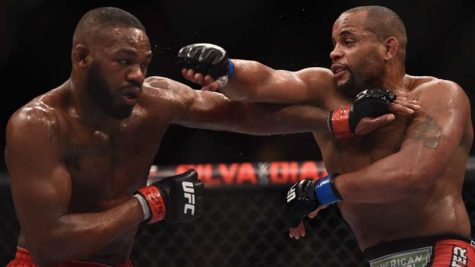 In May of 2012 Jones totaled his car after driving into a pole around 5:00 AM in New York and was taken into custody for a DUI. He plead guilty to a DUI, received a $1,000 fine, and his license was suspended for six months.
In 2014, Jones and his biggest rival Daniel Cormier were set for a news conference in Las Vegas to promote their upcoming fight. The conference ended in a brawl and Jones was fined $50,000 and was required to complete 40 hours of community service.
Jones fought Cormier in early 2015 and ended up getting a unanimous decision win. Three days after the fight the Nevada State Athletic Commission revealed that Jones tested positive for cocaine after taking a drug test 30 days before the fight and was fined $25,000. The fight was allowed to go on because cocaine is not on the list of substances banned. 
Three months after the failed drug test Jones was involved in a hit-and-run which injured a pregnant woman. The UFC stripped Jones of his championship and suspended him indefinitely. Jones later plead guilty and was sentenced to 18 months of supervised probation. A month later the UFC reinstated Jones to its active roster.
"
…is considered one of the best fighters of all time"
Jones was jailed in Albuquerque for violating probation and was cited by the police on five charges related to drag racing. Jones was ordered to take anger management and driver improvement classes for violating the probation.
Jones returned to competition after a 15-month absence to capture an interim light heavyweight belt by defeating Ovince Saint Preux via unanimous decision.
Jones was scheduled for a fight against Daniel Cormier in UFC 200 but was later pulled from the rematch after being flagged by the US Anti-Doping Agency for a potential doping violation. Jones held a press conference and denied any cheating. He was issued a one-year ban from USADA and the substances Jones tested positive for were Clomiphene and Letrozole.
The UFC stripped Jones of his interim title and made him the first champ to be stripped twice.
Jones returned to fight Cormier after another 15 month absence. Jones won after a third round knockout but failed to pass a drug test days before the fight, Jones was found with the steroid Turinabol in his body. The commission overturned the victory and gave the championship back to Cormier. 
Jones was scheduled for another fight with Alexander Gustafsson on December 29, 2018. Jones got drug tested the day of weigh-ins and small traces of Turinabol were found in his system. But Jones didn't get into any serious trouble. Jones defeated Gustafsson by a TKO in round 3 and became the UFC light heavyweight champion again and passed multiple post-fight drug tests.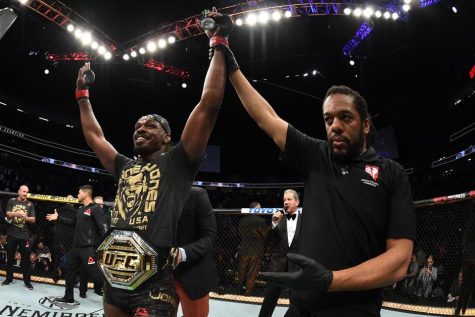 Jones defended his belt against multiple fighters like Anthony Smith and Thiago Santos but faced a battery charge after an incident in April. Jones was not found to have violated the law and the case was dismissed.
Dominick Reyes would be up next to challenging Jones for the belt on February 8, 2020. Jones defeated Reyes and kept his title after a controversial decision by the judges.
Just a couple months later Jones was arrested for alleged aggravated DWI and negligent use of a firearm and other charges. Jones plead guilty to a DWI and was fined, put on probation, and served community service.
Jones decided he did not want to fight at the light heavyweight level anymore and moved up to the heavyweight division. Jones officially said the title is now up for grabs to anyone.
Jones' 2013 title defense fight against Alexander Gustafsson was inducted into the UFC Hall of Fame. Hours later Jones was arrested in Las Vegas and charged with misdemeanor battery domestic violence and tampering with a vehicle. Jones was ordered to pay for the damages of the police vehicle and attend anger management counseling. 
On January 14, 2023, the UFC announced Jones was going to make his heavyweight debut against Ciryl Gane on March 4, 2023. The fight was set to take place at UFC 285 in Las Vegas. Jones defeated Gane with a guillotine choke in just over two minutes and became UFC heavyweight champion. 
Many consider Jon Jones to be the best of all time but some fans still haven't crowned him as the GOAT due to his issues outside of the octagon.