The Colorado Buffaloes finished their 2022 campaign with a disappointing record of 3-9, with many of the losses being blowouts. The Buffaloes knew that they needed to make a change, and they made a big one. 
They hired Pro Football Hall of Famer Deion Sanders to be the head coach. Within one year, Colorado has had a stunning turnaround with Sanders at the helm. Sanders has brought lots of excitement and hope to the team.
Deion Sanders, also known as "Prime Time," previously coached at Jackson State for three years. Sanders, also, had a legendary career in the NFL and is considered to be one of the best cornerbacks ever.
Sanders wanted to build a winning environment for Colorado, and he sure did. 57 players left Colorado when Sanders was hired and 49 players arrived in Colorado. Many young players wanted to transfer or commit to Colorado after Sanders was hired due to his legendary reputation.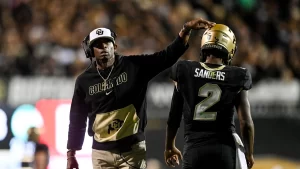 Travis Hunter is a five star prospect, and was the No. 2 ranked prospect in the class of 2022. While Sanders was coaching at Jackson State, he was able to land Travis Hunter. When Sanders left Jackson State, he took Travis Hunter and many players with him. Travis Hunter plays both cornerback and wide receiver, and is very good at both.
Sanders installed a winning culture immediately. He emphasizes hard work, accountability, and discipline. After, Sanders changed nearly the entire roster the team came off to a hot start in their 2023 campaign.
The first game of the season Colorado matched up against the TCU Horned Frogs, who were in the National Championship just last year. The Buffaloes won 45-42, the game was electric and QB Sheduer Sanders (Deion's Son) threw for four touchdowns and 510 yards, which is a school record.
Throughout the game, Travis Hunter played a total of 129 snaps and dominated on both sides. He earned himself an interception, forced three incompletions, and had 11 catches for 119 yards. After the first week of the season, Travis Hunter and Sheduer Sanders both gained lots of Heisman hype.
The Heisman trophy is an annual award that is given to the most outstanding player in all of college football.
The Buffaloes matched up with the Nebraska Cornhuskers in the second week and won 36-14. The Buffaloes defense kept them in the game at the start, and then, their offense started to catch fire, able to pull away.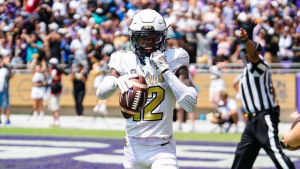 Colorado started the season off red hot as they defeated Colorado State in Week Three. They were able to force overtime after coming back from an 11 point deficit in the fourth quarter. The Buffaloes ended up winning the game in overtime 43-35.
The Buffaloes looked to keep their momentum up in week four against the No. 10 ranked Oregon Ducks, but became the victims of a blowout loss. Oregon outplayed Colorado in every way and won 42-6.
In Week Five Colorado matched up with Heisman frontrunner QB Caleb Williams and USC. USC ended up winning this thriller of a game 48-42 and Colorado fell to a 3-2 record.
Colorado was able to bounce back the next week against Arizona State, but it wasn't easy for them. Colorado just barely beat Arizona State 27-24 to bring their record to 4-2.
I think it's safe to say the Deion Sanders experiment turned out to be a success for Colorado. Colorado is certainly not done with their season, and still have bigger goals to achieve. Fans are looking forward to seeing how the rest of their season will turn out.
(at the time this story went live, Colorado has a 4-6 record)
Story continues below advertisement