Everything You Need to Know Before the NFL Draft
I've compiled a comprehensive breakdown of 17 of my favorite prospects.
It's that time of year again, a time many NFL fans perennially look forward to (looking at you, Lions fans): The Draft. Teams each year look to draft the star player to take them to new heights, or that final piece to complete their roster.
We've seen many teams find success through the draft recently, the most notable meteoric rise being in Cincinnati by way of Joe Burrow and Ja'marr Chase, two top five picks. Teams like the Eagles and Chiefs, who coincidentally made the Super Bowl last season, have also been built heavily through the draft.
It's safe to say that hitting in the draft is one of the fastest ways to propel yourself to Super Bowl contention, but that's far easier said than done. Teams fumble the draft with alarming consistency (see Arizona missing on three consecutive top ten picks: Josh Rosen, Kyler Murray, and Isaiah Simmons).
But you can't redo a draft, you can only look forward, and look forward we shall.
I've crafted a comprehensive list of some of my favorite prospects from the upcoming 2023 NFL Draft class with the help of Sutton alum (Class of 2011) and lead football beat writer for Eleven Warriors, Dan Hope.
Right off the bat, since Eleven Warriors is an Ohio State journal, I took the opportunity to pick his brain about my top five Ohio State prospects, in order: CJ Stroud, Paris Johnson Jr., Jaxon Smith-Njigba, Dawand Jones, and Zach Harrison.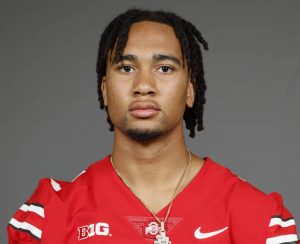 The mental game of a quarterback is so important, and Dan had the unique opportunity to interview CJ Stroud face to face. "Mentally, I think he processes the game really well. I think he has great accuracy. Then, if you look at who he is as a person, I really like him. I think he's a guy who, sometimes, in some of his interviews, he's said some things that rubbed people the wrong way, just because he's very honest… The thing I know about CJ is if you talk to any of his players, you talk to any of his coaches, they all love him. They all think he's a great leader, think he has a great work ethic. They love his commitment to the game and to his teammates. I think he's somebody who's certainly going to be embraced in an NFL locker room."
Stroud's draft status can't be discussed without mentioning the Peach Bowl against Georgia, which can be easily called the best game of his career. It was the first time he was really able to show off his mobility and ability to create plays with his feet.
Much of Stroud's success can possibly be attributed to the insane level of talent around him on the offensive side of the ball. In his time starting at Ohio State, he has had two offensive linemen go to the NFL (Thayer Munford and Nicholas Petit-Frere) with three set to get taken this year (Paris Johnson Jr., Dawand Jones, and Luke Wypler), and two wide receivers go as well (Garret Wilson and Chris Olave) with three set to get taken in the next two years (Jaxon Smith-Njigba, Marvin Harrison Jr., and Emeka Egbuka).
It's rare to find that much talent on a single team in such a short span, and that has led many scouts to be weary of Stroud, but Dan declares that we should not be judging players off of their targets or the school on their jersey (in reference to the stigma surrounding Ohio State quarterbacks in the NFL), but rather the play they put on tape, and that Stroud has the best tape in the nation; "If you compare him to Will Levis, certainly the argument you could make for Levis is that he had way less talent around him than CJ. I think that's something that factors into the equation, but I'm of the opinion that that's not what you should evaluate a player on. You shouldn't evaluate a player on the jersey they wore or the talent around them. You should evaluate them on the player they are. What I found so impressive about his combine performance was that he looked just as accurate throwing to receivers he's never thrown to before. I think that accuracy is gonna translate anywhere."
Buzz around CJ Stroud has only gotten louder in the wake of the NFL Combine, as his spectacular performance has linked him tightly to the Carolina Panthers, who recently traded up with the Bears for the number 1 overall pick.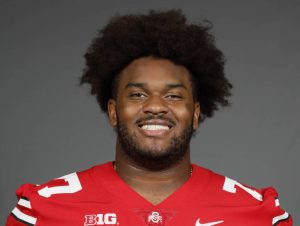 However, as stated previously, Stroud did not do it alone. Much of his success absolutely should be contributed to the man protecting his blindside, Paris Johnson Jr. Johnson is a two year starter at Ohio State, starting his sophomore year as a right guard, before kicking over to left tackle for his junior season.
Johnson is a mammoth of a man, standing at six feet six inches with 36 ⅛" arms, and weighing 313 pounds. NFL scouts and front offices always love a physical freak, and Johnson checks all the boxes.
Dan had nothing but positives in his analysis of his play. "I think he gave up one sack in his Ohio State career, so he's a very proven pass protector, which is obviously job number one for offensive tackles these days. If you're just looking for who's the best pure pass blocking left tackle in this class, I think it's Paris Johnson… You look at the size/athleticism, Paris has everything that you're looking for. If you talked to him, you'd be really impressed by him too. He graduated from Ohio State in three years. He's super smart, super down to earth guy. I think he's going to go into the NFL with all the right intangibles, and with a desire to be great and to improve."
Many analysts, as well as general fans of the NFL draft, have linked Johnson to the Chicago Bears in an effort to reunite him with Justin Fields, another Ohio State quarterback. At his Pro Day he made it very clear that he would love to rekindle his relationship, and with the Bears desperately needing help on the O-Line, I'm sure they would too.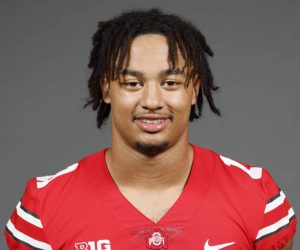 Stroud's top target in 2021-22, Jaxon Smith-Njigba, has also entered eligibility this year, and his draft status is a little more ambiguous than the prior two. JSN missed much of his Junior season due to a levy of hamstring issues, but his Sophomore season tape is some of the best wide receiver tape we've seen in the last few years.
The uncertainty surrounding Njigba has led many to drop him down their wide receiver boards in exchange for more physically overwhelming prospects like Quenton Johnston, but, as I've done in years past with Derek Stingley and, more importantly, Ja'Marr Chase, I'm going to trust what he's put on tape and label him as my top wide receiver in the draft.
Dan was able to speak to Njigba plenty of times over the years, and his insight, as well as comparison to Ja'Marr Chase's situation from two years ago, were very valuable. "You just watch his film from 2021. He was on an offense with the two best rookie receivers in the NFL this past year, Chris Olave and Garret Wilson, and he was the best receiver on that team… I think you gotta go back to that 2021 film, watch the Rose Bowl, watch him against Nebraska, and I think that shows how good a player he is… His ability to create separation with his route running and agility is special… There are gonna be people who ding him for just being a slot receiver, but the way I see it, Cooper Kupp had the best season an NFL receiver has ever had two years ago as a slot receiver."
JSN did, however, participate in the combine this year, where he absolutely tore up the agility drills, posting the best times in the 20 yard shuttle (3.93 seconds), as well as the three cone drill (6.57 seconds). He proved some doubters wrong at his pro day with his 40 yard dash, posting a time of 4.48 seconds, solidifying that his long speed is more than serviceable to play receiver at the NFL level.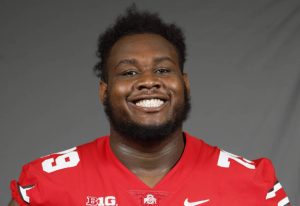 We wrapped up our discussion of the first round Ohio State guys with the other bookend of Stroud's O-Line, Dawand Jones. The first thing that jumps off the page when you look at Jones is his massive frame. Dawand stands at six feet eight inches, weighs 374 pounds, and has 36 ⅜" arms.
As gifted as his measurements make him look, the biggest knock on Jones is his athleticism. While you obviously can't expect a man of his size to be as agile as Jaxon Smith-Njigba, the athleticism and agility are more than a bit of a concern for him.
What Jones has been able to put on tape more than outweighs most of my concerns for him though. He has shown promise in pass protection on top of dominance in run blocking. There is no doubt in my mind that a team will see enough potential to take a swing on him in the latter half of the first round.
Dan acknowledged the concerns with his athleticism, but shows more belief than even the most optimistic arm-chair scouts on Reddit,"You just look at his numbers over the past few years, he gave up almost no sacks, so he's a very good pass protector. He's someone who can overpower people in the run game because of how big he is… I remember hearing the comparisons from one of his coaches, and it's stuck with me ever since, to Trent Brown. In terms of their size and the athleticism they pair with that size. You look at Trent Brown a few years ago when he was in his prime, that's the type of player I envision Dawand Jones being at the next level."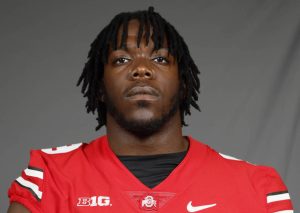 Last but not least, I needed to get Dan's perspective on one of the biggest boom or bust prospects in this class, Zach Harrison. Harrison Came to Ohio State as the tenth ranked recruit in the class of 2019. As with many edge rushers who come to OSU, expectations were through the roof. Anyone playing for the school that has produced talents like the Bosa brothers (Joey and Nick) and Chase Young in the last decade is bound to have a lot to live up to.
While Harrison did not live up to his predecessors, he should absolutely still be considered one of the top edge rushing prospects this year.
Harrison is also one of the best examples of why box score watching a defender doesn't come close to telling the whole story. He was still terrific in run defense his whole career, even though the sack numbers never came.
His measurables are some of the most mind boggling in the Draft. Standing at six feet five inches, weighing 274 pounds, and having 36 ¼" arms, he matches everything you'd look for in a prototypical modern edge rusher. Now would be a good time to mention that only three players had arms that measured 36" or longer, and they all came from Ohio State.
Dan told me about his talks with Harrison over his time at Ohio State, as well as his concerns with his production. "I don't know if the sack numbers tell the whole story of Zach Harrison. This is a guy who was in the rotation for four years at Ohio State. He disrupted a lot of plays that did not get credit in the score sheet. With that being said, you still want to see higher sack numbers, you wanna see him finish more plays. When you're a five star defensive end coming into Ohio State, you're expected to be Joey Bosa or Nick Bosa. He never became that game-wrecking kind of player. If you look at who he is physically, I think he's a first round pick, I think if you look at the player he is on film, he's a third round pick… I look at a guy like Sam Hubbard from the Bengals and I feel like that's who Zach could become, I'm not saying he will be, but that's definitely the kind of player he could become."
We pivoted here from strictly Ohio State prospects to some of my general top prospects. I did my best to cover each position group, but with only 12 players, and doubling up on some of my favorite positions, I unfortunately could not cover the defensive line, linebackers, or special teamers.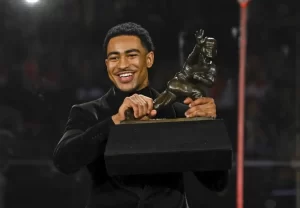 I started with quarterbacks, as they are always the focal point in determining the quality of any NFL Draft class and this year is no exception. Alabama QB Bryce Young, who won the Heisman in 2021-22, is widely considered to be the top passer this year.
Young's talent is undeniable. He's simply the best quarterback in the class from a strict film standpoint. His issues don't stem from his talent or his decision making, instead they stem from size concerns. Young is five feet ten inches tall, and he weighed 204 pounds at the combine.
The biggest issue with that size isn't the actual size itself. Kyler Murray is the same height and Russell Wilson is one inch taller, and both weighed about the same at their respective combines. The issue is that Young played at 194 pounds for the whole season at Bama, and then didn't participate in any drills at the combine.
The concern of many in the community is that 204 isn't his playing weight, but rather a weight he reached in order to make himself more attractive to scouts at the combine. The reason that weight is a concern is the NFL D-Linemen are getting bigger, faster, and stronger every year, so quarterbacks need to be bulky enough to take those hits without risk of injury.
Dan is less concerned with his weight, however, and believes Young's pocket presence and general awareness will be more than enough to make up for his size concerns; "I think you can't just evaluate a guy off height. We've seen guys like Drew Brees and Russell Wilson overcome that. Just in terms of his ability to move outside the pocket to extend plays, his ability to create with both his arm and his legs. I think the talent is there for him to overcome that lack of height… I think you could make a very strong case for Bryce Young being the best player in this draft, and I think it's very likely he'll end up going to the Houston Texans at number two overall."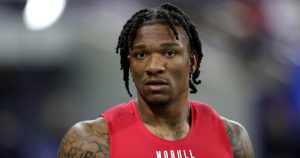 Anthony Richardson is almost the opposite of Bryce Young as a prospect. Richardson's size and athleticism carry him to be widely considered one of the top quarterback prospects this year. His stats last season (his first full year starting) are unimpressive at best; however, a deeper dive into some of his tape will show you that he has all the intangibles required to make it at the NFL level.
Before we cover the intangibles it is vital that we first go over his freakish combination of size and athleticism. Richardson is six feet four inches and 244 pounds. As far as NFL quarterbacks go, those numbers aren't too impressive, but unlike every prior NFL quarterback to participate in the combine, he runs a 4.43 second 40-yard dash. He has a 40.5" vertical jump. He has a 10'9" broad jump.
His patience is what really excites me about his game, though. Richardson has all the athleticism in the world, but he will sit in the pocket and go through all of his progressions before he tucks it. Most players with half his rushing ability would take it themselves after one or two reads, but Richardson's mobility has not stopped him from developing his passing abilities.
Richardson is likely the most athletic quarterback ever, and he has a cannon of an arm to boot. Many draft fans, like myself, believe that, given the right situation, Richardson could end up being the best player from this class.
Richardson is a polarizing prospect, and Dan gave me insight into both sides of the spectrum; "To me, he's the wild card of the draft. If the Panthers drafted him number one, it wouldn't completely floor me… If somebody trades up to number three for Anthony Richardson, I wouldn't be shocked. He's the ultimate boom or bust guy. You look at the physical tools and I can totally see why there's gonna be teams that are gonna be enamored with him. If it all comes together, with that arm and that athleticism, he has the potential to be an elite player, but he also has the potential to be a complete bust. There were games in college where he wasn't even completing half his passes. It's a risky pick, but if you're gonna roll the dice on a guy, I would roll the dice on Anthony Richardson."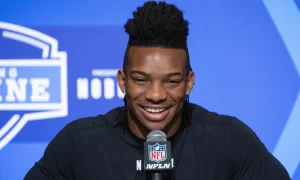 We stayed in the backfield for someone who also has a strong case at being the best player in the class, Texas running back Bijan Robinson. Bijan is, without question, the best running back prospect since Saquan Barkley came out of Penn State in 2019. His patience as a runner, combined with his speed, agility, quickness, strength, and vision are incredibly unique, and he's received comparisons to many of the great backs to come before him, such as Adrian Peterson and LaDainian Tomlinson.
Bijan has all the tools to succeed at the next level, and he proved it time and again, racking up 1580 yards and 18 touchdowns on the ground, and hauling in another 314 yards and two touchdowns as a receiver. Despite RB consistently being seen as a low value position, I wouldn't be surprised to see him go in the top half of the draft.
Dan tends to agree with the Bijan hype, "I think he's the most complete running back in this class. If it was a different era we'd be talking about the prospect of him being a top ten or even top five pick…If you're a team with a good roster just looking for a running back to take them over the top, taking Bijan in the first round is definitely the right decision."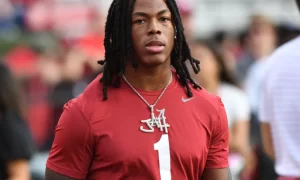 Alabama's Jahmyr Gibbs is the only back who compares to Bijan, but his skill set is entirely different. Gibbs was Bryce Young's top receiver last year despite being a running back. The value he provides out of the backfield is second to none, and at the NFL level the only backs with similar pass catching talent are Christian McCaffery and Alvin Kamara.
Gibbs also tore it up at the combine, running a 4.36 second 40-yard dash, making him the second fastest running back in the class. His strength as a runner is a concern for many, and I don't personally believe he could ever be a bell cow back for an NFL team, but that does not mean I think he's a bad prospect in any sense.
Gibbs can likely be the defining piece of a very successful offense, especially with the league's trend towards more pass heavy offense. His floor, in my opinion, is still a successful slot receiver. Dan tends to agree with me, "With his ability, not just as a runner but also as a receiver out of the backfield, and as a returner. He's a guy who can do a lot for a team."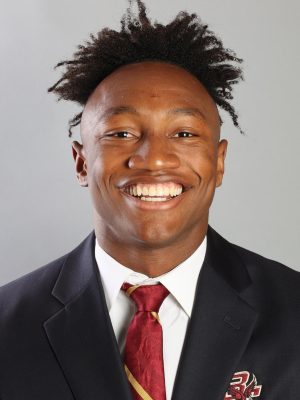 Zay Flowers is, in my opinion, the most electric player in this class. I thought he was the most electric player last year, and in my mind he's kept that status after his year at Boston College.
Coming out of high school as a 3 star recruit, listed outside the top 1000 recruits in the nation, not a top 100 receiver in the nation, not a top 100 player in Florida, Flowers has worked as hard as anyone in college to place himself firmly in discussion for a first round selection. After his improvement year after year he was reportedly offered six figures in NIL deals, but chose to stay at BC after discussing with his father.
Loyalty is very important to his family, and if I were a GM looking for a receiver I would value that immensely. A player with as much talent as him who you can count on is a rare commodity in professional sports.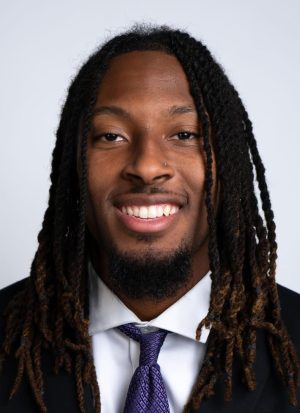 Quentin Johnston rounds out my top receivers. The six foot four monster out of Texas Christian University had a breakout junior season where he showcased his lethal combination of size and speed.
Many boards list Johnston as their top receiver, but my concerns for him are larger than any other player on this list. Last season he failed time and again to take advantage of the size advantage he had on every corner he faced.
While he couldn't use his size as much as you would want with the ball in the air, I think his after the catch ability is some of the best in the class (see Michigan Game). While I don't like throwing around player comparisons, I think he's almost identical to Bears receiver Chase Claypool in almost every facet.
Dan explained why, in spite of his shortcomings, Johnston will likely be one of the first receivers off the board, "Quentin Johnston is my wide receiver two. If you're looking for a bigger, longer receiver in this class, he's gonna be your guy. JSN, Flowers, and [Jordan] Addison are all smaller guys, so that will probably push Johnston up on boards."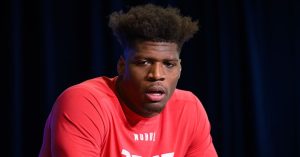 Georgia tight end Darnell Washington dwarfs Johnston, though. The six foot seven, 264 pound monster may not offer as much in the receiving game as a typical modern tight end, but what he lacks in receiving talent, he makes up for ten fold as a blocker.
It's not an exaggeration to say that Washington is the best blocking tight end we've seen since the turn of the century. Georgia would often treat him as another lineman in their sets, and he showed why in the combine when he tossed the sled twice as far as any of the other tight ends, and made it look easy while doing so.
Washington checks so many of the boxes, and Dan defended his shortcomings in production, "There's not a lot of guys who are like him physically. His combination of size and athleticism is unbelievable. In terms of production, maybe you'd like to see a bit more, but he also played in the same offense as Brock Bowers, who we're gonna be talking about next year as a top tight end. Blocking is something you know you're gonna get from him, his only question is can he be productive as a receiver in an NFL offense. We've seen the flashes, but we haven't really seen the consistent production. In terms of upside and what he can become, I think the upside is certainly very high for him."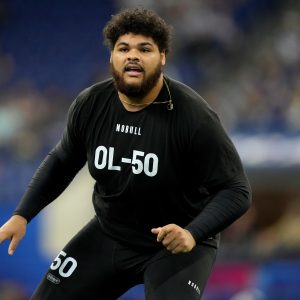 Darnell Wright might be my hottest take of the whole draft process. I have him as my top offensive tackle in the class. After this season at Tennessee, an SEC season in which he didn't allow a sack, it feels foolish to rank him anywhere else.
He dueled with Will Anderson and in my mind got the better of him (so much so that pro scout Lance Zierlein cited that game to justify one of Will Anderson's weaknesses). Many tackles have gone head to head against Will Anderson, but few have lived to tell the tale. Wright was a key piece on the most prolific offense in the nation, and many credit him heavily for that offensive success.
Will Anderson's game against Darnell Wright was abnormal. Anderson is a borderline generational talent as an edge rusher, and for my money he's the best player in the class.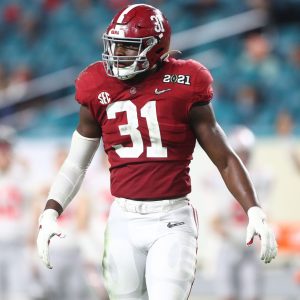 Anderson has prototypical edge size at six foot three, 253 pounds, and his 4.6 second 40-yard dash puts him towards the top of edge speed in the NFL. But his production is what really sets him apart from the rest of this class. Anderson had a Heisman-worthy sophomore season, putting up 17.5 sacks and 31.0 tackles for loss, but was not even named a finalist for the award.
Dan is almost as adamant as I am about Will's Heisman snub. "It was criminal that he wasn't even invited to the Heisman two years ago, because he was the best player in college football that year. You set aside the quarterbacks, I think he's the best player in the draft. If I'm the Cardinals sitting at three, and I know quarterbacks are going one and two, I'm gonna need a really good offer if I'm gonna trade down and pass up the opportunity to draft Will Anderson"
But if you want to ignore his sophomore year for whatever reason, his junior tape is more than enough to make him the top player this year. Even though he had a "down year" in terms of production, his combination of speed and strength, mixed with his quickness and processing makes him a rusher on par with names like Chase Young and the Bosa brothers.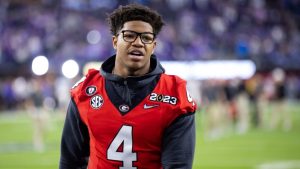 Nolan Smith may seem like a pushover in the wake of a monster like Will Anderson, but his speed and instinct are some of the best we've seen recently. Although he may be undersized for the position (six foot two, 238 pounds), the former number one recruit in the nation more than makes up for it by running a 4.39 40-yard dash, having a 41.5" vertical, and a 10'8" broad jump.
His freak athleticism is backed up by his play, even though the stat sheet might not show it. His 2022 production left a lot to be desired (18 total tackles, 3.0 sacks, 7.0 tackles for loss), but he impacted the game in plenty of ways. His ability to set the edge is second only to Will Anderson, and his speed forces quarterbacks to bail and make bad decisions.
The Georgia defense isn't designed for edge rushers to pad their stats (see Travon Walker last year), but Smith was able to do exactly what was asked of him for an all-time defense.
Dan explained why he think Smith may go even higher than I many expect him to come draft night, "In today's NFL, it's such a speed predicated game, and I think a guy like Nolan is very appealing as an edge guy…You look back to the beginning of this year, or the playoffs last year, I think there's a lot of good things you see from him. I definitely see him as a first round kind of player, and when you talk about upside, I think he's very close to the top of the list in terms of highest upside guys in this draft."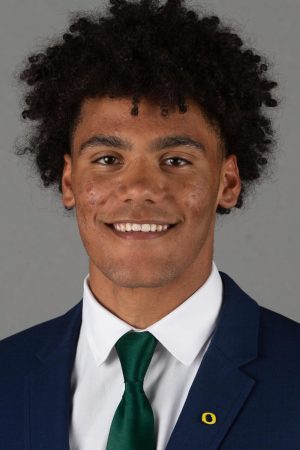 Oregon cornerback Christian Gonzalez is probably the best cornerback in the class (sorry Devon Witherspoon). His combination of size and speed is something that's being coveted more and more from the boundary corner in the NFL.
He took huge leaps this year in production, posting four interceptions and seven passes defensed, silencing most of the doubt surrounding him during the pre-season. His six foot one frame allows him to compete with larger receivers for jump balls, and seeing him convert on that ability is incredibly promising.
This is a terrific cornerback class, but in spite of that, Dan still sings Gonzalez's praises. "I think he's probably the most complete corner in this draft, and it's a pretty strong cornerback class between him, Devon Witherspoon, and Joey Porter Jr., I think all those guys are legit top 15-20 guys."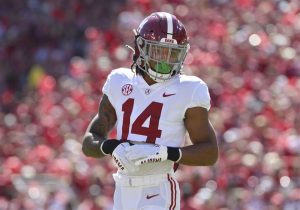 Brian Branch wraps up my players to know, and I couldn't have asked for a better player to do it. Branch is an honest to god superstar at the safety position from his processing to his reactions, all against SEC receivers and quarterbacks.
His athleticism leaves a bit to be desired (4.58 second 40-yard dash, 34.5" vertical), but his versatility and instincts more than make up for any potential shortcomings. While he profiles best as a free safety, I, along with many others, believe he could find success as a slot corner as well.
I'm far more adamant about Branch than I am about any other defensive prospect since safety is often considered a lower value position. I think that is an outdated opinion. The modern NFL defense heavily utilizes two-high and three high sets, and you need safeties to run those. Having talent at safety is vital to operate a modernized defense, and Brian Branch is simply the best option at the position.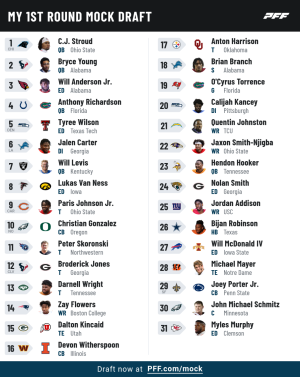 Taking a bit of a turn here, Dan and I ended our conversation by making a quick mock draft. Due to time constraints, we were only able to cover the first five picks, but I completely agree with his selections, and used them when creating my two round mock draft.
No matter what happens, once again the NFL shows why it is the number one league, and Thursday night starts three nights of "Christmas" for football junkies. Tune in to see where your favorite players go, and maybe just how correct (or incorrect) I am.