Over the past few decades, school security has been a rising topic. For many, it seems like schools are becoming more prone to threats and danger than they used to. Sutton in response has made many decisions to further improve its own security through a variety of measures.
Earlier this year, on July 21st, the Executive Office of Public Safety and Security granted Sutton High School $133,000 to improve security.
"The bulk of the grant will be used to add cameras both inside and outside the buildings…the new system will also include a monitor at the police station" Millbury Sutton Chronicle mentions.
Almost 1,600 people come in and out of the Sutton Public Schools daily, so how do we keep our campus safe? I spoke with Superintendent of Sutton Public Schools, Dr. Kim Roberts-Morandi, for more information on this grant, and her opinions on the schools security.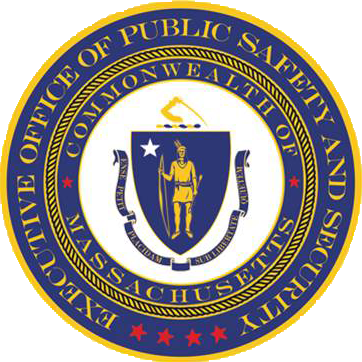 Dr. Roberts-Morandi says that the majority of the grant will be going to upgrading and expanding the school's camera system. Technology moves at a rapid pace, and the old camera system was outdated. The new cameras will have better range and more clarity, along with higher capacity servers to handle them. With this money,  the school system can continue to  "improve the technology we use to support student and campus safety needs…both in quality and quantity."
Sutton Public Schools had many reasons to apply for this grant. The grant allows them to offset needs and their costs as they come up. It also allows the school system to purchase additional items, or give extra training. "We had a need, the grant addressed it, and so we applied", Dr. Roberts-Morandi explained.
Another large part of this security grant was the need for a better connection to the local police department. "We are working towards bettering our direct communication with the police department in order to…reduce time between requests." This is especially important in emergencies, where just seconds of time matter the most.
Security, however, isn't just cameras, and not all security manners can be solved with money. "We can always be sure to keep the doors closed tight, we can report someone on campus who does not look familiar, we can be sure to have any and all guests come through the main office and report in."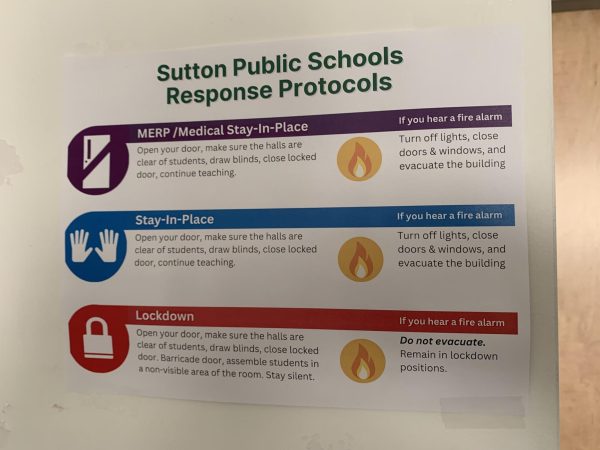 Additionally, Sutton does a nice job of keeping students informed as well. Informative posters have been put up in each classroom, detailing response protocols the school might call on. It states how students should react to these important situations.
Above all, what is most important to Dr. Roberts-Morandi is that students feel safe. "Part of my job, and the job of the administration, is to create or support the structures, policies, practices, and expectations that make for a safe environment."
If someone is struggling academically, emotionally or socially, individuals should be sure to support them. Sutton is all about creating an environment that helps those in need, and that is part of what keeps Sutton secure. "Identifying and addressing issues before they become significant is the way to potentially reduce serious problems."
Sutton works hard to make sure that the campus we spend so much time at allows for a safe learning environment. Sutton is in an ongoing cycle of student experience enhancement, which includes security. As time goes on, technology will change, and the practices our schools have will change as well. "We will continue to train and consider new methods of safety and security enhancements."
Story continues below advertisement