LGBTQ+ Representation in The Walking Dead
The Walking Dead fandom is no place for ignorance
Throughout the series The Walking Dead, we are introduced to many characters who are a part of the LGBTQ+ community. Each character is represented differently and knocks out stereotypes, including characters from Fear the Walking Dead and The Walking Dead: World Beyond. 
The Walking Dead is a popular show (currently in Season 11) primarily about a zombie apocalypse. The characters do their best to survive and avoid any other conflicts, such as zombies or other people. Even with this the creators still find ways to include LGBTQ+ characters – which is something many more shows should do to include diversity and representation. 
On January 25, 2021, the official @TheWalkingDead Twitter page posted a tweet saying, "Hi. Hello. If LGBTQ+ characters on television (or anywhere) make you uncomfortable or angry, please unfollow us. While we also encourage you to look within and be more accepting, know that there is no place in our fandom for hateful discrimination or willful ignorance. Thank you." It is a very well phrased statement that I hope the audience they were trying to reach listened to. 
Having LGBTQ+ characters in a show like this is so important – especially with such a large fan base – because people who are also a part of the community or haven't figured themselves out yet can identify with these characters and know it's okay to be who they are without having any shame. For those who aren't a part of the community, they can become educated and learn more about them. 
I will now introduce some of those characters.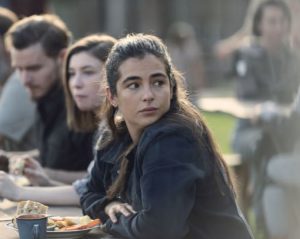 Tara Chambler:
Tara Chambler was one of the main characters of The Walking Dead portrayed by Alana Masterson. She was first introduced in the fourth season and seemed naïve at first, but as we got to know her we see she is a fun-loving leader. Before the apocalypse, she was training at the police academy, if only she got to finish. She's had a few relationships with characters in the series like Alisha who was a part of "The Governor's" militia and quite a dark person, and Denise Cloyd, the anxiety troubled doctor for the community Alexandria.
Aaron: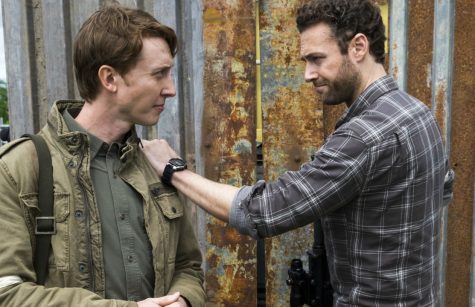 Aaron, a good-natured adventurous character, has been a part of the show for the longest time; he's been in The Walking Dead since Season Five. Portrayed by Ross Marquand, Aaron was a member of the Alexandria-safe zone, working as a recruiter, council member, and later the lieutenant for the Coalition. He was in a relationship with Eric Raleigh and later in the series with Paul "Jesus" Rovia. 
Eric Raleigh: 
Eric, portrayed by Jordan-Woods Robinson, was the boyfriend of Aaron and also a recruiter for Alexandria. Before the apocalypse, they were both NGO workers where they met. They later moved in with each other in Washington DC, but they were always seen as outsiders because of their sexuality.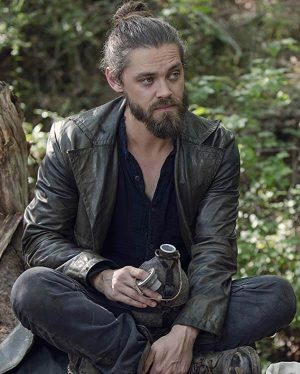 Paul Rovia: 
Paul, known as "Jesus", was introduced in the sixth season of The Walking Dead, portrayed by Tom Payne. Before the apocalypse, he was trained in martial arts along with escapology. During the apocalypse, he was a recruiter and supply runner for the Hilltop Colony, also training kids with martial arts, a good skill to have during a zombie apocalypse. Throughout his time on the show beyond the sneaky and mischievous side of him, we see he is a smart and humorous person.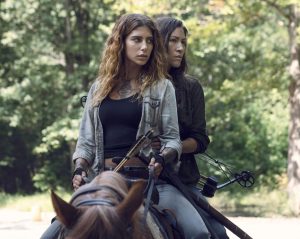 Yumiko Okumura:
Yumiko, portrayed by Eleanor Matsuura, was introduced in Season Nine of The Walking Dead. We learn that before the apocalypse she was a criminal defense lawyer where she met Magna, who was accused of murder. Magna ended up falling in love with Yumiko and they later started dating. During the apocalypse we see Yumiko is skilled with the bow and arrow; she was also the lookout for Coalport and later a soldier for the Coalition. 
Kelly: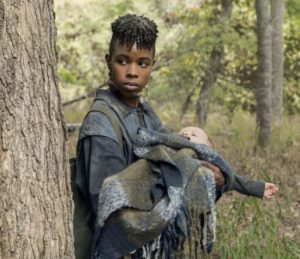 Kelly, also introduced in Season Nine of The Walking Dead, was a soldier and ASL teacher for the Coalition. Connie, her sister, is completely deaf so Kelly, who is partially deaf, and her family learned ASL to better communicate with her. Kelly is protective and stubborn at times, but always means well and would do anything for the ones she loves. 
Felix Carlucci: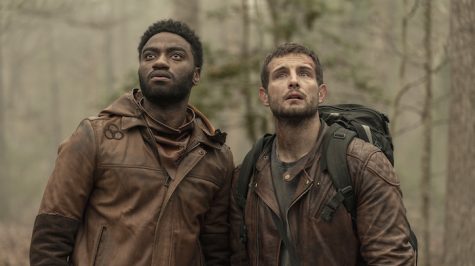 Felix is a main character in The Walking Dead: World Beyond, he is portrayed by Nico Tortorella. Before the apocalypse, Felix lived with his dad but was kicked out after his dad found his emails to his boyfriend. During the apocalypse, he marries Will Campbell. The two met each other when they were both security guards at the campus colony. Felix also worked as a survival instructor at the campus colony.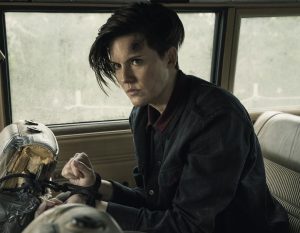 Althea:
Althea or Al, portrayed by Maggie Grace, was introduced in the fourth season of Fear the Walking Dead. Al is said to have been made for the apocalypse because of who she was before the apocalypse started. She was a journalist who would interview people and document their stories. She's been to some rough places which really ended up shaping her as a person. During the apocalypse is where she met Isabelle. Isabelle was a soldier from a mysterious group, and Al was part of Morgan's group of survivors. They started a relationship, got separated, but reunited later on.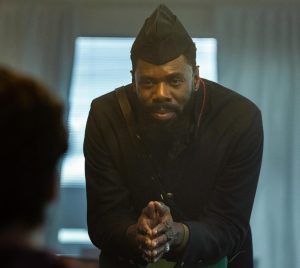 Victor Strand:
Victor is a fan-favorite, portrayed by Colman Domingo. He is introduced in the first season of Fear the Walking Dead. Victor adjusted well to the apocalypse. He meets Thomas Abigail, who Victor was going to attempt a money theft scheme on after experiencing financial issues because of Hurricane Katrina, but Thomas was impressed and began a partnership with him and they later started dating. Victor is a complicated character and a bit of a sociopath who ends up becoming an antagonist, but fans still love him because of how well he is portrayed. 
This article contains an adequate number of them, but there are more characters in The Walking Dead universe that are a part of the LGBTQ+ community. 
We are in a time where inclusivity is really important because in the past couple of years people have begun to be more open about their sexuality on social media platforms like Instagram and Tiktok. Having more representation on shows with an even bigger audience can really make viewers feel included or better understand. 
An article about @TheWalkingDead's twitter post