#MakeInstagramCasualAgain is far from casual
The movement for casual Instagram posting has good intentions, but is a step in the wrong direction.
Kevin Systrom and Mike Krieger launched Instagram in 2010 as a simple way to communicate and share through images. At the time of its launch, users spontaneously shared low quality photos of anything and everything that caught their eye- aesthetics not yet a concern. Now worth over $100 billion, the social media platform is home to nearly 1.4 billion active monthly users sharing photos daily to please their audience. 
Image is everything on Instagram. The rise of influencer culture has proved that having an aesthetically pleasing profile can make a successful career. Individuals have the opportunity to earn credibility, status, and, most importantly, money, through social engagement.  Influencers have established their digital empire by snapping photos of products they endorse, putting a filter on them, and posting them for the world to see. 
Celebrities such as Kylie Jenner earn over $1 million per Instagram post, while influencers with a smaller following can still profit. They often go above and beyond to portray their unrealistic lifestyles, in turn, causing the misled audience to strive for unattainable physique, status and wealth–all through FaceTune, filters, and false realities. 
The pressure of presenting a curated image to social media and living up to influencer standards has affected our definition of enjoyment. We no longer live for memories, but live for the post, likes, and followers. In a recent #StatusofMind survey published by the United Kingdom's Royal Society for Public Health, almost 1,500 teens answered questions about how social media platforms impacted their mental health. To no surprise, Instagram was deemed the most detrimental and gained negative marks for significant health and well-being related issues such as anxiety, depression, and body image. Unrealistic expectations set by many Instagram posts create feelings of inadequacy and low self esteem, which is why pressing "post" brings us so much anxiety. 
According to New York University Professor Adam Alter, the feeling of getting a "like" on an Instagram post is comparable to the feeling people may get after drinking, smoking, or taking drugs. 
All of these experiences produce the chemical associated with pleasure: dopamine. The unpredictability of posting is what makes it so addictive, and it's also what brings us the most anxiety. 
To combat these feelings of anxiety, the movement to "Make Instagram Casual Again" started to gain steam. The movement encourages a return to casual posting on Instagram, much like how it began back in 2010. The hashtag #MakeInstagramCasualAgain currently features over 48,000 spontaneously posted, blurry, candid, and unfiltered photos. 
Most commonly known as a "photo dump", Instagram users post carousels of laid back content, attempting to stray away from the aesthetics and influencer style that took over Instagram and to gravitate towards a more authentic nature. The new trend of laid back posting has even become popular in the influencer world. 
Emma Chamberlain, a fast rising young influencer, is known for posting a balanced mix of high quality magazine photo shoots and casual "photo dumps" of her most recent meal or of her crying.  Chamberlain's massive following (15 million+ followers) admires her because "she's really honest with who she is" and "doesn't take herself too seriously."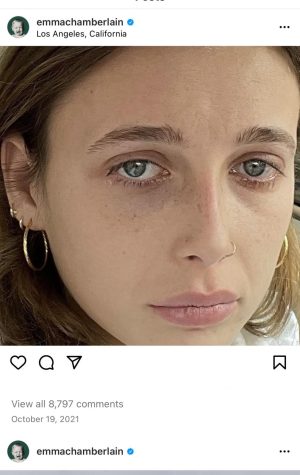 The strive towards authenticity is what makes the Make Instagram Casual movement so dangerous. It's powerfully ironic: a trend that encourages users to be their most genuine selves is yet another facade that users display on their profiles. Casual posting is still based on photographing and leading an aesthetically pleasing lifestyle. Along with the pressure of creating a curated page and posting quality photos, we now have to be sure that these photos do not come off as too "try hard."
Behind the scenes, many users are still anxious over what to post. The over analysis of the Instagram post is still there, even though the movement's main goal is to reduce the feelings of anxiety that come with posting. The good intentions behind the movement unintentionally aestheticize authenticity and the simplicity of being carefree. In order to truly make Instagram a place where people feel comfortable and authentic, we must break free from trends and write our own rules.